HARRISBURG – In the May primary election, Gaughan received both the Republican and Democratic nominations from county voters and if elected in November she'll begin serving a full 10-year-term on the bench in January.
Pike County has only had one judge the past three years as former President Judge Joseph F. Kameen took medical leave and eventually retired in 2018. The need for the second judgeship to be filled now rather than in January was noted by Sen. Lisa Baker, R-20th, who chairs the Senate Judiciary Committee. The panel held a hearing Thursday to consider Gaughan's nomination, and made a favorable recommendation to the full Senate, which later voted unanimously to confirm her for the post.
"Kelly has a compelling set of legal and enforcement credentials that well prepare her to serve as judge, and she will fill a tremendous void and a tremendous need in our community," said Baker. "She is compassionate, hard-working, and knowledgeable, and I know she will serve our county with fairness and integrity." Baker also noted that the Pike County Bar Association urged a positive vote.
Addressing the Senators Gaughan said, "I'm really here today at the urging of the members of our community and of my colleagues." She said that having only one judge in the county since mid-2017 "put an undue burden on the current president judge (Gregory H. Chelak)" and created a "backlog" of cases in the court system. She said people who want to have their day in court have been waiting and she hopes that by having two judges back on the bench, cases will be heard more swiftly.
"I've had community members come to me now saying 'ok you've won we want you there can you please get there as soon as possible because we want our cases heard.' There are people that are hung up that are trying to get to court that are trying to get their case before a judge. That is the urgency in Pike County."
Baker concurred with Gaughan that she too has heard from community members who are upset they can't get their day in court and have expressed their frustration to her on multiple occasions.
Gaughan said a judge must "be impartial and apply the law to the facts presented," and added that she is "ready to take the position and do some good for the community."
A graduate of the University of Scranton, Gaughn received her law degree from Seton Hall School of Law in 1998, has been an attorney for 20 years with expertise in family, civil, and criminal law. She has argued matters before the Commonwealth and Superior Courts and the United States District Court. She is the Vice President of Levy, Stieh, Gaughan & Baron, P.C. in Milford and the mother of two.
In addition to her work as an attorney, she is deeply involved with a variety of community organizations in a leadership role, most notably having served as president of the local United Way and the Center for Developmental Disabilities and has been actively involved in VetStock.
Rep. Mike Peifer, R-139th, who serves 10 of Pike County's 13 municipalities, thanked the Senate for its quick action to hold a hearing and confirm Gaughan.
"We're excited to have her. The people of Pike County deserve to have this seat filled," Peifer said. "Since she already received the nominations of voters in both parties in Pike County, it only makes sense to seat her now."
Gaughan, who was in Harrisburg with her husband of 20 years Marty, said that securing the nomination of both parties was important but that having no competition was an even bigger key because it shows that her community outreach efforts in recent years paid off.
Rep. Rosemary Brown, R-189th, who serves the remaining three municipalities in Pike County, also supported filling he vacant seat now rather than waiting until 2020.
"Kelly is an excellent nominee for judge in Pike County. She has years of legal experience on varied issues, understands our community, and deeply and sincerely cares for the people of Pike County," Brown said.
Attorney Kelly Anne Gaughan, center, along with Sen. Lisa Baker and Rep. Mike Peifer, before the Senate Judiciary Committee hearing to consider Gaughan's nomination for a vacant Pike County judgeship.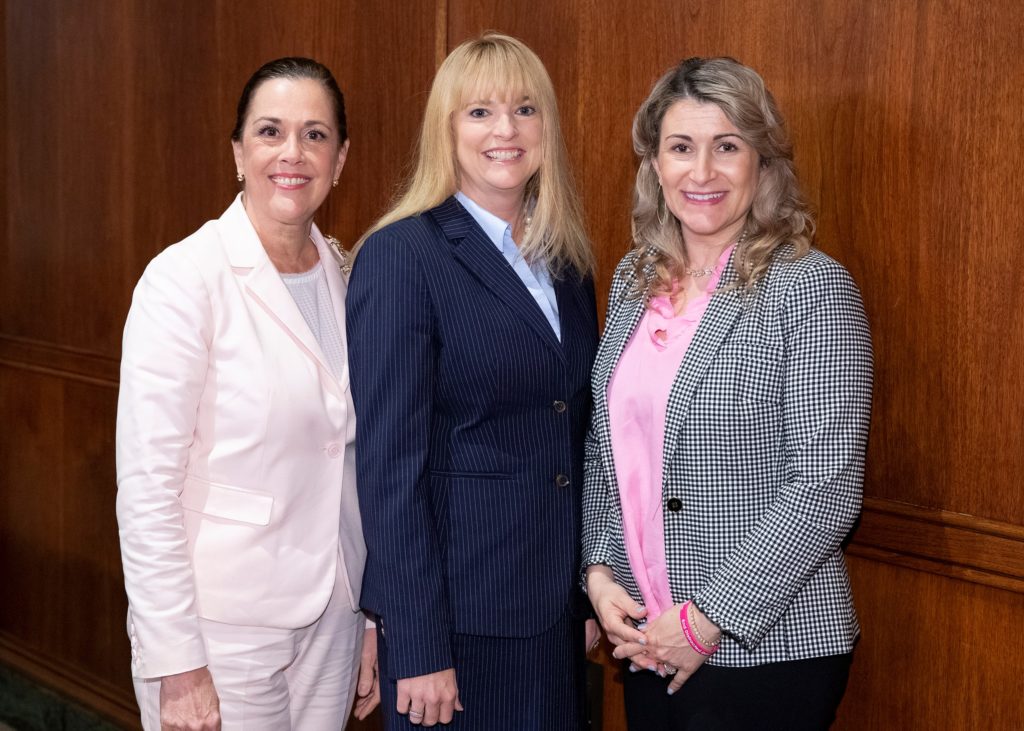 Attorney Kelly Anne Gaughan, center, along with Sen. Lisa Baker and Rep. Rosemary Brown, before the Senate Judiciary Committee hearing to consider Gaughan's nomination for a vacant Pike County judgeship.
Listen to Sen. Baker introduce Kelly Gaughan during Senate session