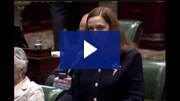 As we debate this year's budget, we should take a moment to salute the very Americans who have defended our right to speak freely, to assemble, and to live in a land of law and of liberty.
This week—state Veterans Homes Week—is a golden opportunity to honor and thank the residents and staff of Pennsylvania's six veterans' homes. Even better than a resolution, I encourage you to visit one of the homes and remind America's heroes that they are not forgotten. Listen to their tales of heroism and struggle, and hear why they served, where they served, and what they did for democracy.
Then beyond a visit, we must show our defenders that we remember them by supporting their needs in the budget process and beyond.
As a board member of the Gino Merli Veterans Home in Scranton, I have had the privilege of talking to these still-proud soldiers in wheelchairs and hospital beds —the brave members of the Army, Navy, Air Force, Marines, Coast Guard and National Guard who defended our freedoms in their younger and stronger days. They never fail to impress and inspire with their riveting stories and their infinite patriotism. The entire staff, from doctors and nurses to aides and therapists, display that same patriotism and respect as they tend to the needs of these great American heroes.
It is no accident that the Gino Merli home was named after the Medal of Honor recipient who inspired Tom Brokaw's book THE GREATEST GENERATION.
The state veterans homes are one of the most visible ways in which we honor our obligation to our nation's defenders. We have improved the physical plant of the homes and the quality of care, which has led to extremely high patient satisfaction levels. But that doesn't mean the homes are without challenges.
With the state budget process in its final stages, we must keep the veterans in these homes in the forefront of our minds and our priorities. They were often the first to defend our flag and should be the last to suffer from budget shortfalls.
Throughout the year, many volunteer groups visit the homes to socialize, to sing, to donate blankets, and to make the veterans home a true "home."
Veterans' homes are caring for aging veterans in Scranton, Erie, Hollidaysburg, Philadelphia, Pittsburgh and Spring City. The staff in each home works to maximize the independence of every sick, aging and injured veteran and their spouse, for it is these veterans who fought so bravely to preserve OUR independence as a free nation.
As we salute the 1,600 veterans and their caregivers in these homes during State Veterans Homes Week, I encourage everyone to visit a veterans' home and say thank you to our heroes. Remember them in the state budget, and remind them that we have not forgotten that we are forever in their debt. Thank you.
Contact: Jennifer Wilson
(570) 675-3931