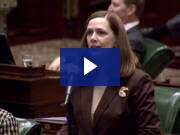 HARRISBURG, March 19 – Leslie Nicholas, a language arts teacher at Wyoming Valley West Middle School who was recently named the country's top educator, was honored Tuesday by state Representative Phyllis Mundy and state Senators Lisa Baker and John Yudichak.
Nicholas, known as Mr. Nick to his students, was introduced on the House floor by Mundy and the Senate floor by Baker. He received citations in both chambers recognizing his accomplishment. He also delivered a powerful address to the full Senate on the importance of education in Pennsylvania.
"While we are fortunate to have many excellent teachers in our area, the sustained excellence in approach demonstrated by Les Nicholas is remarkable and inspiring," Baker said. "The national recognition he is receiving is well-earned. But I know that what counts most for him is the success in life and professional pursuits that his students have gone on to achieve."
"All good teachers leave an indelible impact on their students but very few have been a more positive influence on area children over the years than Les Nicholas," Yudichak added. "We are fortunate enough to have hundreds of great teachers throughout NEPA and I am extremely proud to see one of these fine educators receiving this well-deserved national recognition."
"Les Nicholas has left an indelible impression on the thousands of students who were fortunate to have him as a teacher," Mundy said. "He consistently goes the extra mile to show his students how the skills they are learning relate to real-life situations."
Nicholas, a fourth-generation educator, started his career in 1981 teaching journalism to Wyoming Valley West High School students. He built radio and television studios to give his students that real-life experience as part of their education. He also advised the award-winning yearbook, literary-art magazine, and newspaper at the high school before moving to the middle school.
During his career, he's received numerous awards. He was named Pennsylvania Teacher of the Year in 2004 and 2005, and in 2009, he was inducted into the National Teachers Hall of Fame.
The National Education Association selected him as one of five finalists for the NEA Member Benefits Award for Teaching Excellence.
Nicholas was selected for the award after he gave a mock lesson in New York City and was interviewed by members of the NEA.
Contact: Jennifer Wilson
(570) 675-3931