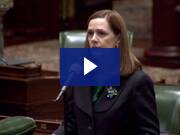 On behalf of my colleagues from Northeastern Pennsylvania, Senators Yudichak, Gordner, Blake and Argall, I rise to offer our deepest sympathy to the family of Eric Williams. Eric, of Slocum Township, Luzerne County, who was born and raised in Nanticoke, lost his life in late February. He was killed in a brutal assault by an inmate using a homemade knife while working as a corrections officer in a federal prison in Wayne County.
That this occurred in a federal facility, that it was the first fatal attack in nearly five years, do nothing to diminish the tragedy of the circumstances or to lessen our concern.
All the technology and training poured into modern correctional facilities lull some into believing these jobs are no longer difficult or dangerous. Sadly, untrue. Yet, these are necessary jobs. We rely on good people filling them, and by every account Eric Williams was one. The job was in line with his training and represented stable employment. His future was taken by someone with nothing to lose and no reason to care.
There is a warning in this incident – while we are justifiably debating alternatives to incarceration for lesser offenses, we are reminded many of the individuals currently locked up are there for sound reasons of public safety.
Williams' sister, after recounting the fine qualities of her brother, asked a truly haunting question that hit the heart of the unfairness of it all: "He [the killer] is already in jail. How do you get your justice?"
I ask for a moment of silence in memory of Eric Williams.