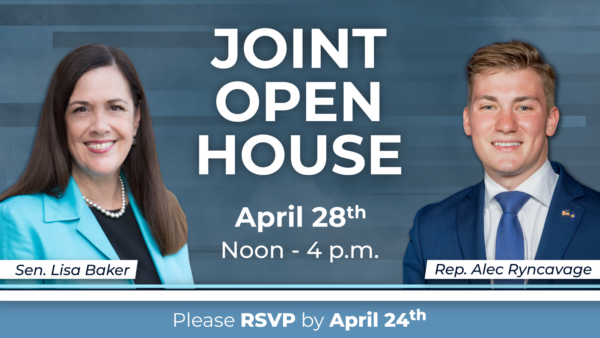 NANTICOKE – Sen. Lisa Baker (R- Luzerne/Pike/Susquehanna/Wayne/Wyoming) and Rep. Alec Ryncavage (R-Luzerne) announced they are hosting a joint open house at their district offices on Friday, April 28, from noon to 4 p.m., at 50 N. Walnut St., Suites 105 and 102, in Nanticoke.
"A crucial part of public service is meeting face-to-face with constituents, listening to what they have to say and alerting them to state programs and services that may assist in improving their personal situation," said Baker. "For people who want to talk about issues, this joint open house allows them to gain perspective from both the Senate and state House. We receive input and information from a wide variety of sources, but community conversation still gives the most helpful insight."
"As a new legislator, I'm grateful that a seasoned senator like Sen. Baker and I will be in close proximity to one another as we help the constituents in our area," said Ryncavage. "Our neighboring offices create a one-stop shop for our residents. The building and ample off-street parking make our space accessible, welcoming and convenient for those needing legislative services."
The offices of Baker and Ryncavage can assist residents with PennDOT paperwork, driver's license and vehicle registration applications and renewals; information and applications for senior citizen benefit programs, including Property Tax/Rent Rebate and PACE/PACENET prescription drug programs; securing birth and death certificates (photo identification required); organizing tours of the state Capitol; copies of legislation; and many other services.
Everyone who plans to attend is asked to RSVP to Liz Gorski or Beth Clemow by April 24 at lgorski@pasen.gov or bclemow@pahousegop.com.
Contact:
Jen Wilson jwilson@pasen.gov
(570) 675-3931