In this Update:
Senate Advances Key Education, School Safety Budget Priorities
Senate Judiciary Committee Approves Bills Regarding School Terroristic Threats, Family Law Disputes, Wiretapping and Body Cameras for State Parole Agents
Funding for State-Related Universities Approved by Senate
Tax Revenues and PIT Collections Above Monthly Estimate
Loans Available for Businesses Creating and Retaining Jobs
Protect Yourself with Free Weekly Credit Reports
Recognizing National Child Safety and Protection Month
---
Senate Advances Key Education, School Safety Budget Priorities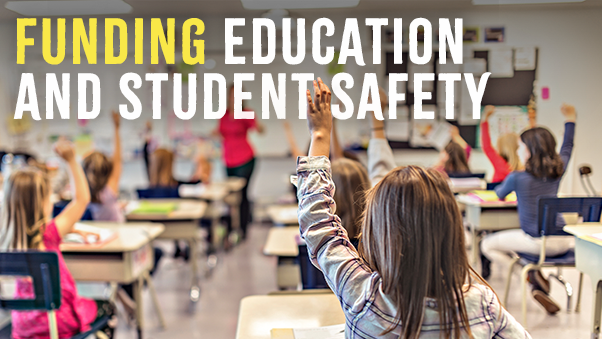 The Senate approved budget implementation language that will drive out critical funding to schools and present a more streamlined approach to school safety.
House Bill 301 allocates funding for several critical priorities that were included in the 2023-24 state budget, including:
$100 million for K-12 mental health programs.
An additional $150 million for education tax credits to provide scholarships to students through the existing Education Improvement Tax Credit and Opportunity Scholarship Tax Credit programs.
$295 million for Ready-to-Learn Block Grants.
More than $261 million for community colleges.
More than $76 million in special education funding for intermediate units.
$10 million to create a new Educator Pipeline Support Grant Program to provide grants to student teachers.
$46.5 million in reimbursements to school entities that participate in the National School Lunch and School Breakfast programs.
More than $70 million in state aid to public libraries.
$14.5 million in funding for career and technical schools.
$7 million to assist distressed schools.
The bill would also ensure greater collaboration in keeping children safe in the classroom by consolidating school safety programs and operations under the Pennsylvania Commission on Crime and Delinquency (PCCD), which currently manages the highly successful School Safety and Security Grant Program created by Senate Republicans in 2018.
Learn more about other ways the bill helps students and schools here.
Senate Judiciary Committee Approves Bills Regarding School Terroristic Threats, Family Law Disputes, Wiretapping and Body Cameras for State Parole Agents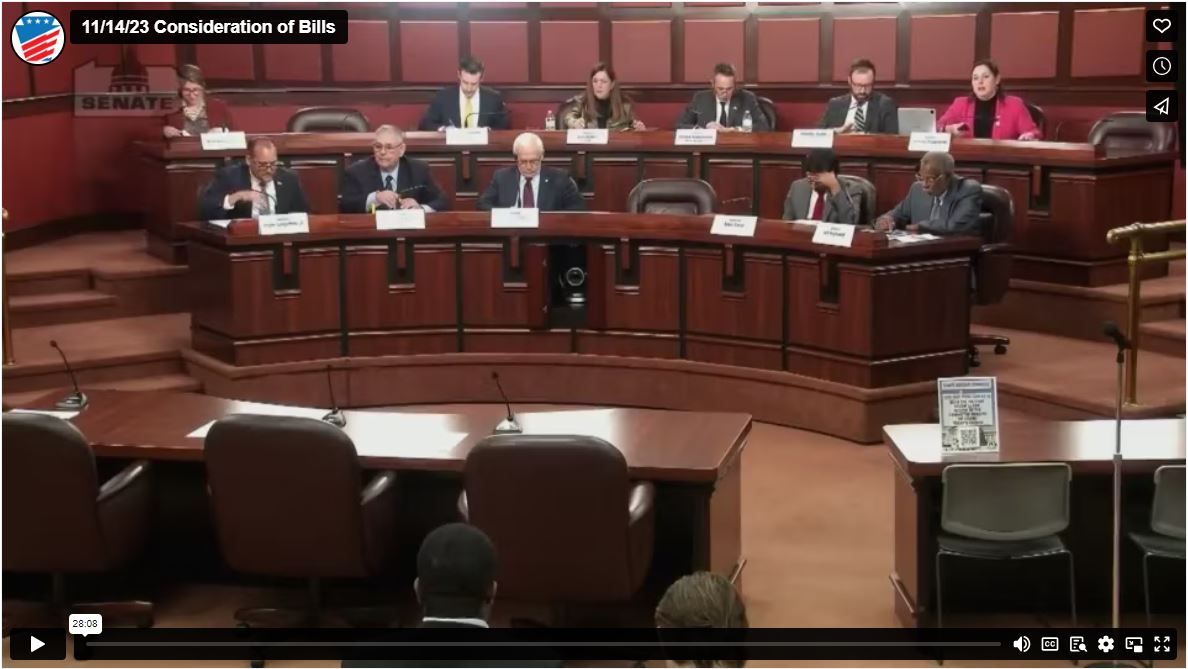 The Senate Judiciary Committee approved legislation regarding school terroristic threats, family law disputes, wiretapping and body cameras.
The first bill considered would create heightened penalties for the crime of terroristic threats when the threats relate to a school or educational facility.
In my district, close to a dozen schools have been plagued by anonymous threats this year resulting in closures and lost instruction time and hindering student progress. I spoke with numerous parents and grandparents who were understandably frightened and upset. There is a serious fear factor involved with any threat and tremendous anxiety for the children, their families and educators.
As part of the bill, I offered an amendment that would allow schools to recoup the full costs of the evacuation due to a threat.
This was a suggestion offered during a discussion I facilitated between the Pennsylvania State Police, local law enforcement and school superintendents. When these threats are made, our schools and emergency response units currently absorb a lot of unnecessary and financially draining costs. They deserve to be reimbursed for the expense so they can continue to provide educational services and community protection services to the full extent their budgets enable.
The committee also considered a bill that would adopt the Uniform Family Law Arbitration Act, allowing parties to resolve certain family law disputes through voluntary arbitration.
Despite our persistent attempts to improve the family law system, it remains difficult to fairly adjudicate family disputes through adversarial litigation. The number of cases can overwhelm the system and the emotional distress on the part of the two sides frequently prevents reason from prevailing. By opening the potential for the parties to avail themselves of an established arbitration system, there is hope for a less contentious and costly process yielding better outcomes, particularly for the children involved.
The last bill considered would extend Pennsylvania's Wiretap Act through 2029 and authorize the use of body worn cameras by state parole agents.
Even with all the refinements in criminal strategies and application of technology, wiretapping remains an essential part of criminal investigations. Extending the expiration date will allow law enforcement to continue gathering necessary evidence to hold criminals accountable while protecting the constitutional rights of our citizens.
I also offered an amendment to the bill to remove certain requirements relating to parole agent body cameras.
Body cameras are becoming a valuable tool for protection and accountability on all sides. My amendment removed language that would impose additional requirements for the use of body cameras by parole agents, such as requiring prosecutors to obtain a search warrant before obtaining recordings. There is no other situation—in the entire country—where police and prosecutors would need to get a search warrant for evidence that is, and always has been, in the Commonwealth's possession or control. These requirements pose unnecessary burdens on law enforcement and prosecutors and are opposed by the Attorney General, district attorneys and others in law enforcement.
The bills now head to the full Senate for consideration.
Funding for State-Related Universities Approved by Senate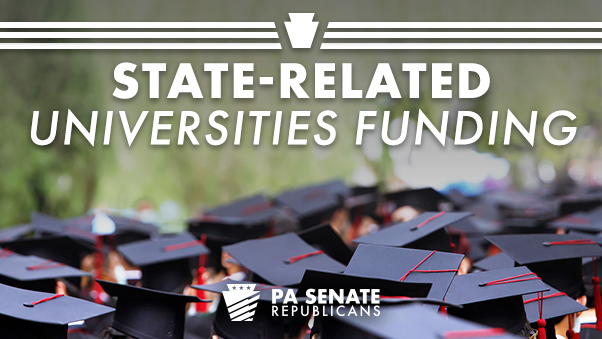 The Senate has voted overwhelmingly to support funding and additional transparency for Pennsylvania's state-related universities. Because the House then also passed both bills, they are set for enactment.
Under House Bill 1461, general support for Penn State University, the University of Pittsburgh and Temple University would remain at the previous year's levels. Lincoln University and Penn College of Technology would receive increases of more than $3.2 million.
In addition, the Senate approved House Bill 1556, which would require greater transparency from state-related universities. The bill would ensure the institutions provide additional information in its annual Right-to-Know Law filing, including information related to contracts, financial statements, faculty, compensation, enrollment, courses and meeting minutes.
According to existing law, funding in the bill is directed to provide tuition discounts for in-state students, and universities are required to meet strict financial reporting requirements as a condition of receiving the money. The leaders of the state-related universities support the funding bill.
Tax Revenues and PIT Collections Above Monthly Estimate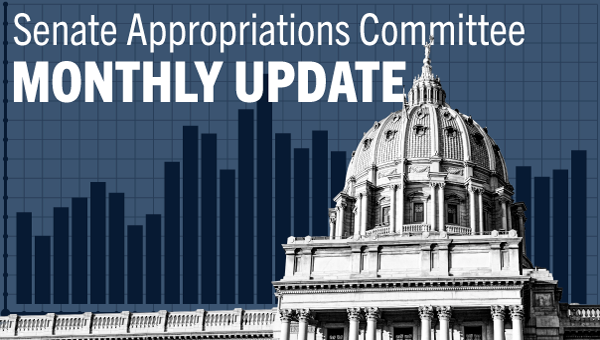 Each month, the Senate Appropriations Committee prepares an update about the state's financial health. The most recent report shows that General Fund tax revenues were $118.6 million, or 3.9%, above the monthly estimate. However, total General Fund revenue collections for the first four months of the fiscal year are still below estimate by $47.5 million.
Personal Income Tax collections exceeded October's estimate by $35.6 million, or 2.8%, but remain below estimate for the fiscal year by $77 million, or 1.5%.
The full update, including the monthly revenue report, is available here.
Loans Available for Businesses Creating and Retaining Jobs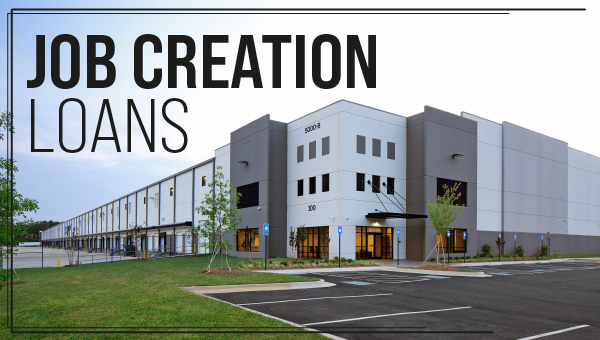 Low-interest loans and lines of credit are available to eligible businesses that commit to creating and retaining full-time jobs and for the development of industrial parks and multi-tenant facilities.
The money can be used for land and building acquisitions, machinery and equipment purchases, working capital and accounts receivable lines of credit, multi-tenant facility projects and industrial park projects.
Learn more and apply online here.
Protect Yourself with Free Weekly Credit Reports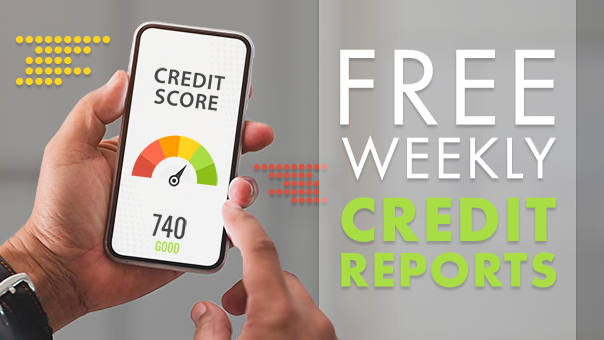 The three national credit reporting agencies – Equifax, Experian and TransUnion – permanently extended a program allowing you to check your credit report at each agency once a week for free.
Visit AnnualCreditReport.com to request free copies of your credit reports. Other sites may charge you or be fraudulent sites set up to steal your personal information.
By reviewing your credit report, you can easily discover if information has been mistakenly reported about you or if someone opened credit in your name. Reporting mistakes and identity theft can help you build a strong credit score that will benefit you when you need to borrow money, secure a rental home and even apply for a job.
Recognizing National Child Safety and Protection Month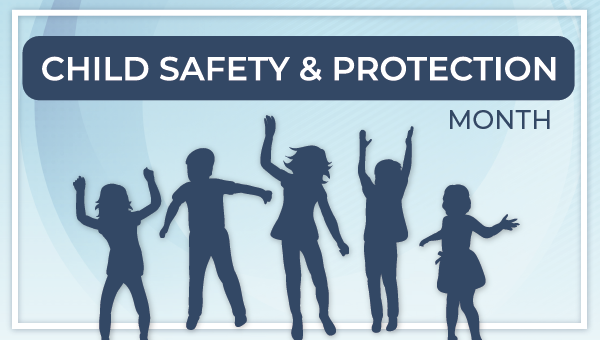 National Child Safety and Protection Month is dedicated to recognizing the dangers children may face and taking steps to prevent those challenges.
We have passed bills to provide child identification kits to parents to help identify and return missing children and to allow parents to surrender their unharmed baby at participating urgent care centers.
Other bills would protect them on their way to school by increasing penalties for drivers who refuse to stop for school buses and extending and revamping the school bus stop arm automated enforcement program.

Please do not reply to this email. If you would like to contact Senator Baker, submit a web contact form here: https://www.senatorbaker.com/contact-me-2/