In this Update:
Gold Star Mother's Day – September 26
Baker Named Guardian of Small Business
Hearing Explores Positive Experiences of Local Governments During COVID-19
Auditor General Releases Audit Critical of Wolf Administration's Business Closure Waiver Process
Senate Approves Legislation Introduced by Senator Baker to Require Confirmation of PEMA Director
Legislative Reapportionment Commission Alters Decision on Counting of Prisoners
Senate Votes to Implement Low-Interest Loans to Fire Companies Approved by Voters
Scammers Continue to Exploit COVID-19
---
Gold Star Mother's Day – September 26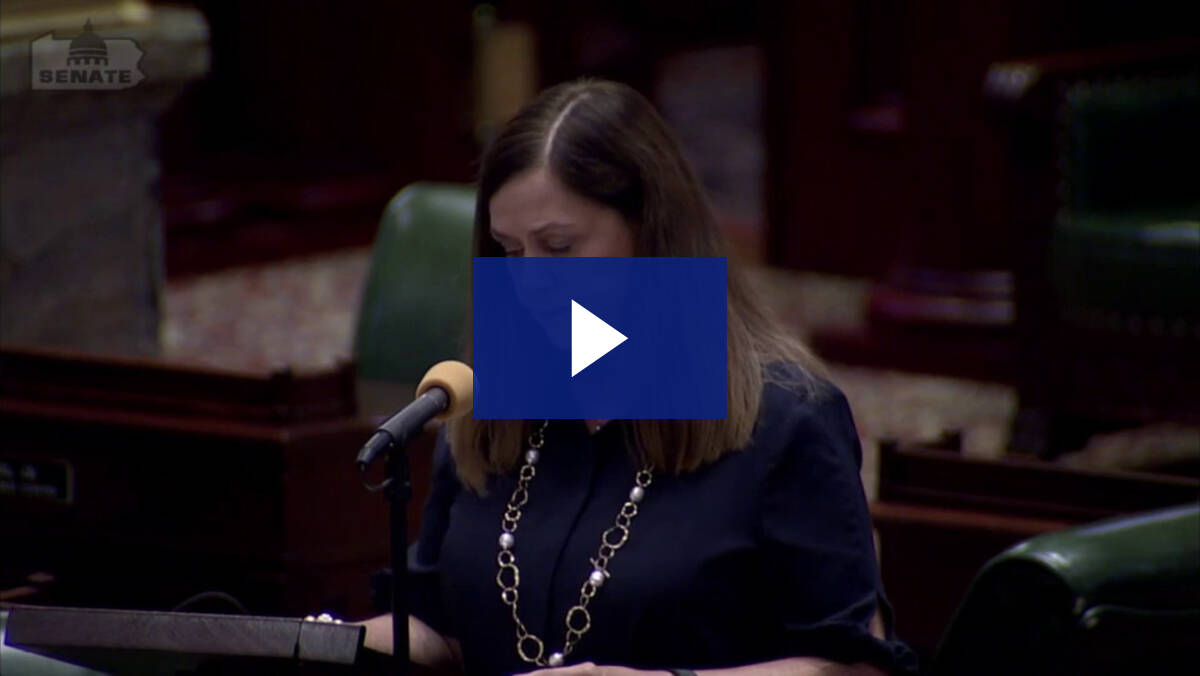 The Senate has unanimously supported the designation of Sunday, September 26th as "Gold Star Mother's Day" in Pennsylvania. The United States is filled with brave patriots who devote their lives in service to our country. Those men and women who pay the ultimate sacrifice to defend our freedoms, far too often leave behind proud, yet grieving families, who are forced into the reluctant journey of carrying on without them.
This action is rooted in a long-held American tradition of gratitude and sympathy to mothers of those who have passed. In the 1930's President Franklin Roosevelt recognized "Gold Star Mothers" for their strength and inspiration, following the death of a son or daughter during their time of military service. 85 years ago, Congress also issued a joint resolution establishing national recognition of the last Sunday in September, being "Gold Star Mother's Day."
America remains "The Land of The Free" in large part because of the courageous sacrifices of our military and their loved ones. No words, or moments of silence, can heal the broken heart of a mother who has experienced loss. But our actions are intended to remember and honor the heroism of their children, and to recognize their tremendous personal loss on behalf of our nation.
Baker Named Guardian of Small Business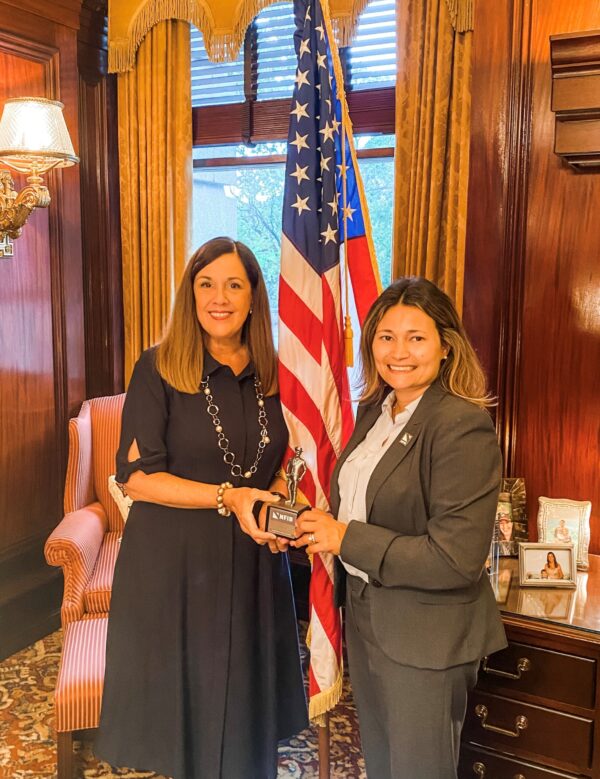 The Pennsylvania Leadership Council of the National Federation of Independent Business (NFIB) recognizes 'Guardians of Small Business' each legislative session. The award is presented to Senators and Representatives who supported key small-business issues, during the two year period. I was pleased to once again receive this recognition, for my favorable voting record on behalf of the Commonwealth's small-business owners.
The last two years have brought an immense array of challenges for our local employers. It is important that we rally behind small businesses, which are a crucial part of our communities and provide a wide range of employment opportunities for Pennsylvanians. Numerous small business owners have ongoing frustrations with how the pandemic has affected their businesses and many are expressing a great need for qualified employees. By continuing to work together collaboratively, we will help to support, stabilize and strengthen the workforce across our Commonwealth.
Hearing Explores Positive Experiences of Local Governments During COVID-19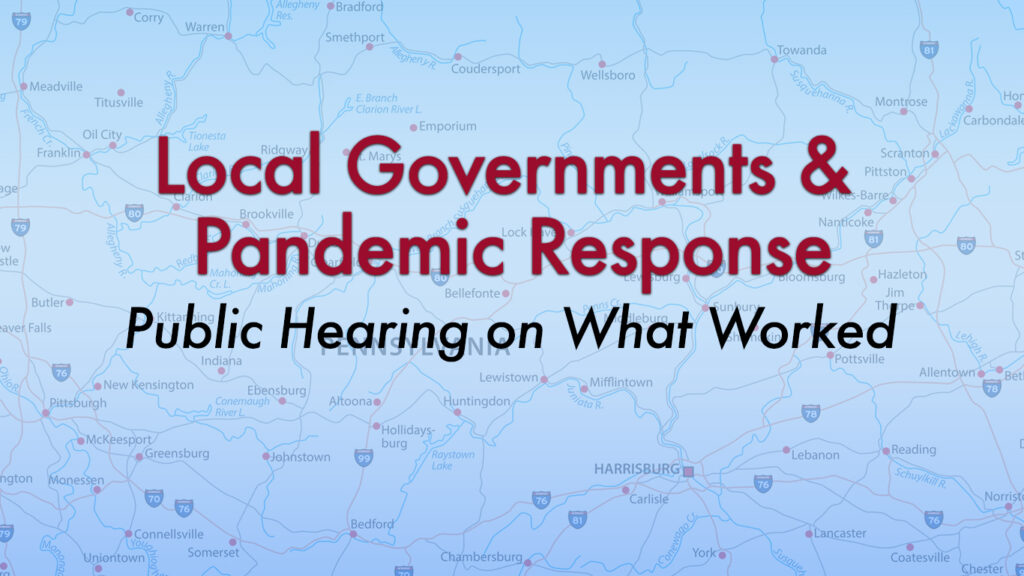 The Senate and House Local Government committees held a joint hearing exploring the positives experienced by local government entities during the COVID-19 pandemic.
Testifiers described the transition to virtual and hybrid meetings, technological advancements in conducting municipal business with the public and other government organizations and improved transparency. They also highlighted ways the pandemic led them to make regulatory changes, improve efficiency and modernize procedures.
You can view hearing video and written testimony here.
Auditor General Releases Audit Critical of Wolf Administration's Business Closure Waiver Process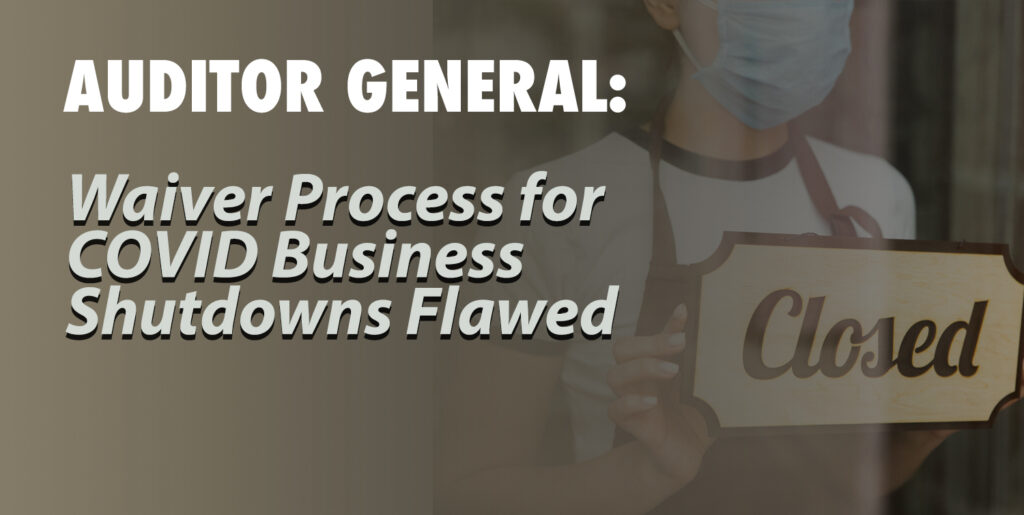 When Pennsylvanians voted in May to put limits on Gov. Wolf's emergency powers, part of their concern was over his pandemic business closures and his administration's handling of closure waivers. An audit by state Auditor General Tim DeFoor found voters' concerns to be justified.
The auditor general released a performance audit examining how the Department of Community and Economic Development handled the process to grant waivers to businesses seeking to stay open during the shutdown, stating:
"This audit revealed a flawed process that provided inconsistent answers to business owners and caused confusion. While the pandemic certainly presented some unique challenges, the process was hastily assembled on the fly, unevenly administered and should be reformed before anything like it is ever used again."
A preliminary audit by the previous auditor general uncovered similar problems. The new audit also found that Gov. Wolf's shutdown order was more restrictive than federal guidelines, resulting in more business closures.
The General Assembly should review the recommended changes included in the audit to determine what needs to be done to prevent a repeat in any future emergencies.
Senate Approves Legislation Introduced by Senator Baker to Require Confirmation of PEMA Director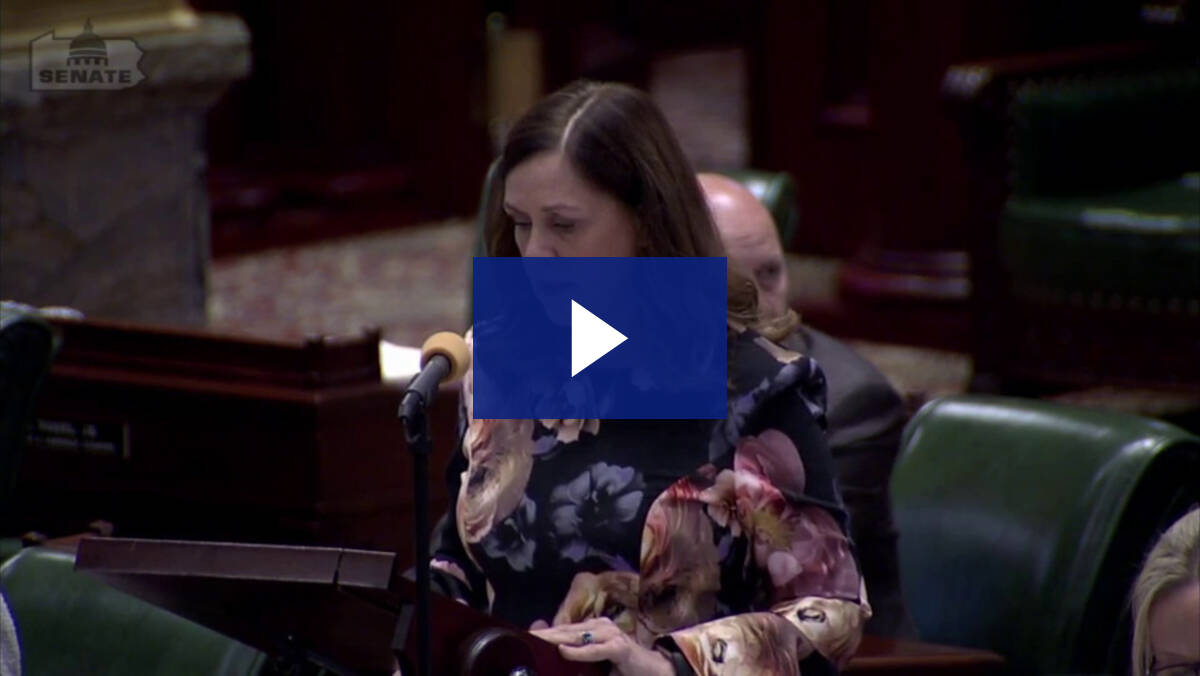 The state Senate has approved legislation, requiring Senate confirmation of the Pennsylvania Emergency Management Agency (PEMA). Senate Bill 461 was passed by a bi-partisan vote of 30 to 19, taking a positive step towards establishing a more robust check and balance system for PEMA, which will increase accountability and ensure the agency is prepared to deal with emergencies efficiently and effectively.
In order to provide for the success and stability of our state's emergency response agency, we should have the chance to judge the qualifications, capabilities and priorities of the director, long before that individual assumes office, just as we do for other state departments, many of which have a lesser impact on community safety. PEMA has a staff compliment of 371 employees, which is far greater than the Departments of Aging, Banking, DCED, Drug and Alcohol, and Insurance – all agencies that already require Senate confirmation for their cabinet officials.
Over the last year and a half with the COVID-19 pandemic, the position of director for PEMA has become elevated in significance, and the realm of responsibility ever greater in reach. The pandemic has expanded the agency's portfolio of duties, with the health-related considerations that have been causing extended emergency declarations. This week, the Senate Veterans Affairs and Emergency Preparedness committee also advanced legislation to transfer authority to PEMA to serve as the lead agency to oversee flood plain management, as well as to administer and oversee the National Flood Insurance Program at the state level. Consequently, PEMA continues to become a more prominent frontline entity, with wide responsibility, to help Pennsylvania and our citizens respond, recover, and rebuild from natural and manmade disasters.
Legislative Reapportionment Commission Alters Decision on Counting of Prisoners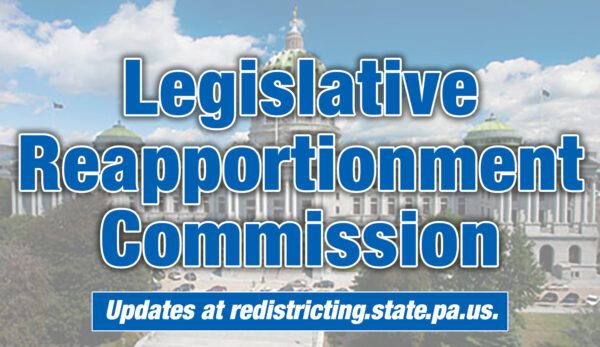 The Legislative Reapportionment Commission made an adjustment to an earlier policy change regarding how the residency of prison inmates will be counted when developing new district maps for the state Senate and House of Representatives.
At its Aug. 24 meeting, over Republican objections that the commission was exceeding its authority, the panel voted to adopt a prisoner reallocation proposal that changes the long-standing practice of having state inmates counted where they eat, sleep and live at the time of the census — like every other Pennsylvanian — and instead count them where they resided prior to incarceration for their crimes.
Noting that not all currently incarcerated individuals remain in prison for less than 10 years from the time new district maps are drawn, the decision was altered by majority vote to count state prison inmates with a minimum sentence expiring after April 1, 2030, in the prison in which they reside, not the community from where they came.
Senate Votes to Implement Low-Interest Loans to Fire Companies Approved by Voters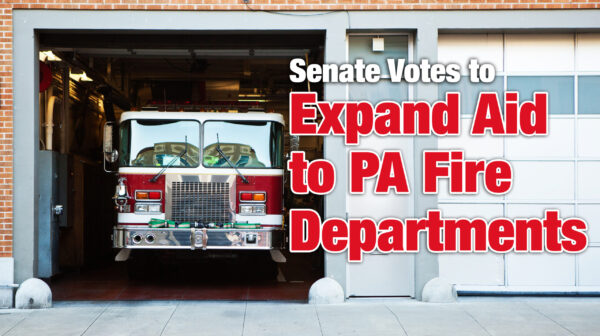 The Senate voted to implement aid to Pennsylvania fire departments approved by voters in a May referendum. The bill was sent to the House of Representatives for consideration.
Senate Bill 739 would permit municipal fire departments or companies that provide services through paid personnel and emergency medical services companies to participate in the Emergency Services Loan Assistance Program, which has been historically limited to volunteer fire companies.
Expanding the assistance program was one of several ballot questions decided by voters in the 2021 Primary Election.
Scammers Continue to Exploit COVID-19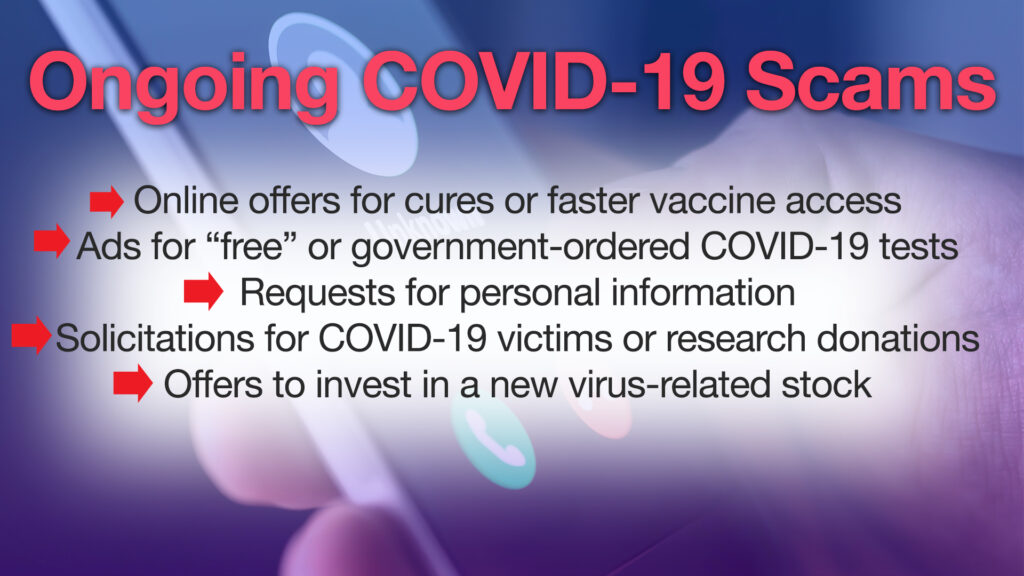 Since the start of the pandemic, fraudsters have been trying to exploit it for financial gain. The arrival of vaccines changed the nature of the scams but did not eliminate them.
The U.S. Department of Health and Human Services says consumers should be on the lookout for these signs of vaccine scams:
Requests that you pay out of pocket to receive a shot
Ads for vaccines in websites, social media posts, emails or phone calls
Marketers offering to sell or ship doses of COVID-19 vaccines
Other scams have sought to steal stimulus money, while the FBI says con artists advertise fake COVID-19 antibody tests in hopes of harvesting personal information they can use in identity theft or health insurance scams. AARP has the latest information on pandemic-related scams.