In this Update:
Responding to the Tragedy in Texas
Commonwealth Court Halts Costly Bridge Tolling Plan
Senator Lisa Baker Working to Establish Child Sexual Abuse Prevention Program
Senate Judiciary Committee Holds Public Hearing on Juvenile Justice Reforms
Senate Acts to Improve Access to Property Tax and Rent Rebates
PUC Offers Tips for Dealing with June Electric Rate Hikes
Further Extension of the Low-Income Home Energy Assistance Program to June 17
Memorial Day: Our Duty to Remember
---
Responding to the Tragedy in Texas
We are grieving for the 19 beautiful children and two brave teachers from Robb Elementary School who lost their lives and for their families and their community. The senseless violence that we continue to witness across our nation is heartbreaking and intolerable.
Even before the facts of the Texas school shooting are fully known and families have had a chance to bury their loved ones, there has been a great deal of speculation about what may or may not happen nationally and in Pennsylvania.
There are two areas where I see possibilities for elected officials to focus on. In a sad irony, on the same day as the tragic shooting in Texas, a coalition of human services groups held an advocacy event at the Pennsylvania State Capitol, on behalf of increasing funding for mental and behavioral health access and services across the board. Illness prevented me from speaking to the crowd, but I shared remarks indicating my strong support for such funding and my commitment to press for its inclusion in the upcoming state budget.
Understandably, every shooting cannot be attributed to mental health problems ignored, nor will better diagnosis and treatment reach every violent actor. There are no fail-safe solutions, but this is a good place to begin.
Second, for a number of years, money has been directed toward strengthening school security. School needs outran available funds, and it is likely various schools are looking to determine if previous strategies remain sufficient in this environment. Again, this is a crucial discussion to have as the state budget is prepared and voted on.
No part of the Bill of Rights is excluded from legislative action when the rights of individuals are in conflict – not freedom of speech, not freedom of religion, not freedom of assembly. The Second Amendment is different, however, in that it is rather plainly stated, and two U.S. Supreme Court decisions have held that it confers an individual, as well as a collective right. There is no way to read it as allowing government to confiscate firearms, or to compel citizens to surrender lawfully acquired firearms, or to restrict the rights of law-abiding citizens to acquire firearms for lawful purposes, or to deny due process to individuals seeking to acquire firearms.
I am already receiving numerous recommendations on what should be done and what should not be done at the state level. Reaching sufficient consensus on any next steps will necessarily be contentious and controversial, as the sharply disparate reactions over the past few days make unmistakably certain.
Commonwealth Court Halts Costly Bridge Tolling Plan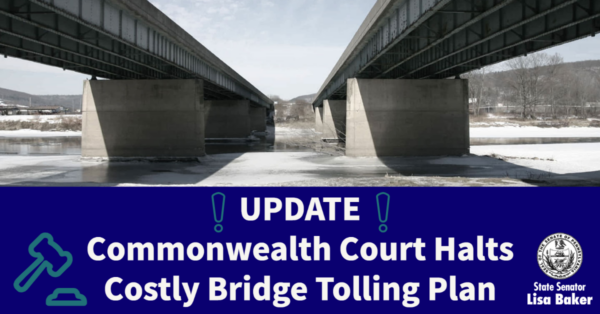 The Commonwealth Court of Pennsylvania has granted a preliminary injunction that stops Governor Tom Wolf's plan to toll nine major bridges across the state, until further court action occurs. The tolling plan would include a nine-mile stretch along Interstate 81 in Susquehanna County, and the Nescopeck Creek bridges on Interstate 80 in Luzerne County.
Since this unpopular plan first emerged last year, area residents and business owners have expressed deep concern about the unwarranted costs this would impose on motorists and shippers. Elected officials have pointed to the anticipated traffic difficulties caused by those using local roads and bridges to avoid paying the tolls. In the face of rising gas prices and inflation, imposing tolls is even more unacceptable. Governor Wolf has vowed to veto legislation I supported to block this improperly and secretly developed funding scheme. I applaud the order and hope it is upheld so we can act on a more reasonable and responsible approach to fixing our roads and bridges.
The bridge tolling initiative would cost the average commuter an additional $1,000 per year and was moved through the process without legislative input nor approval. The Commonwealth Court sided with a county and several municipalities that challenged the bridge tolling plan as unconstitutional. The Senate Transportation Committee held several hearings throughout the state to better understand how PennDOT was authorized to move forward without approval from the General Assembly. Senate Bill 382 would require the P3 (Public-Private Partnership) process to be more transparent, while stopping this current initiative.
This order halts PennDOT's tolling of the following bridges:
Senator Lisa Baker Working to Establish Child Sexual Abuse Prevention Program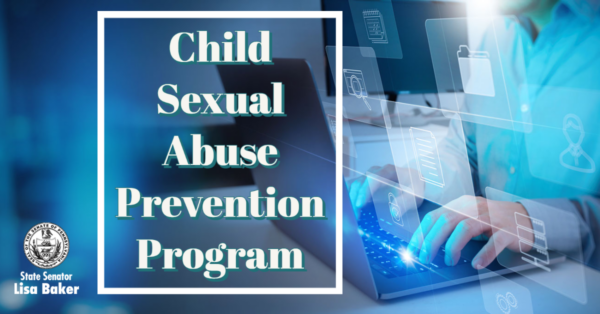 In response to a troubling trend of increased child abuse cases following the mandated COVID-19 pandemic lockdown, I am working to establish the 'Pennsylvania Child Sexual Abuse Prevention Program' utilizing American Rescue Plan Act dollars. Numerous reports have outlined the negative effects of the COVID-19 pandemic related to child sexual abuse and trafficking. Since the pandemic began over two years ago, communication and information technology have played an even more central role in people's everyday lives, providing an opportunity for predators to become increasingly aggressive and putting children at greater risk.
While many families were trying to balance working from home, and simultaneously caring for their children, the horrific reality is that many offenders had more time to organize and create content that is shared over the internet. At the same time, the reduced physical contact dictated by COVID safety measures severely hindered the ability of investigators and case managers to carry out certain child protection duties.
Luzerne County District Attorney Sam Sanguedolce and his team of detectives alerted me to the need for urgent action as a result of the doubling of cyber tips they have received from the National Center for Missing and Exploited Children. In addition to increases in searching, viewing, and distributing child sexual abuse material, there has also been a surge in online enticement and grooming behavior, adults blackmailing or threatening minors, and adults pretending to be minors for sexual purposes.
The grant program I am proposing would be administered through the Pennsylvania Commission on Crime and Delinquency to help provide law enforcement and other frontline professionals, with the equipment, personnel, and training necessary to help safeguard our children. Organizations working to increase education and outreach to parents, children, and the community would also be eligible, and collaborative efforts among various agencies and disciplines would be encouraged. In recent years, we have fought against trafficking and exploitation by predators through increased penalties and improved child protections. Yet during the COVID-19 pandemic, these monsters expanded their methods for misusing technology to abuse and mistreat minors. It is imperative that we continue building on the protective network and mobilize resources to develop a long-term strategy to combat this ever-changing menace.
Senate Judiciary Committee Holds Public Hearing on Juvenile Justice Reforms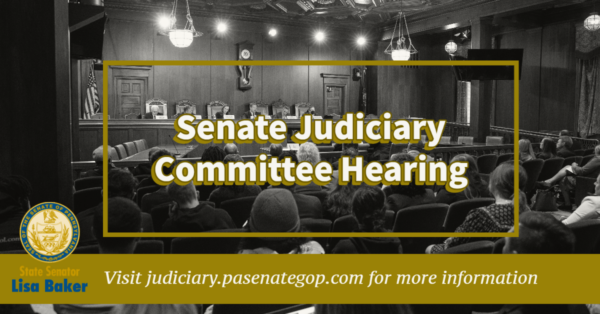 On Monday, the Senate Judiciary Committee held a public hearing on Juvenile Justice Reforms. Four panels detailed the problems we are attacking and the better outcomes we hope to achieve. Other chairs with committee jurisdiction will be performing their own evaluations of the various proposals. The video, agenda and all written testimony submitted for the record at yesterday's hearing, can be viewed on the Judiciary Committee website here.
Making substantial and impactful changes to long-held policies requires comprehensive examination and focus. It is critical that we hold juveniles accountable for their actions, but also put in place policies that offer the chance for positive growth. From the beginning, the issue of reforming Pennsylvania's juvenile justice system has been a joint, bi-partisan effort. No matter if young people live in rural, suburban, or urban areas of our state, the system and processes in place should be fair and equipped with the tools to strengthen families and reduce recidivism rates.
Last year, Pennsylvania's Juvenile Justice Task Force issued its Juvenile Justice Task Force Report containing 35 policy recommendations following a comprehensive review of current practices. The 30-member panel assessed the state's juvenile justice system and reviewed data from court and state agencies and examined how current practices can better align with what research says works best.
Senate Acts to Improve Access to Property Tax and Rent Rebates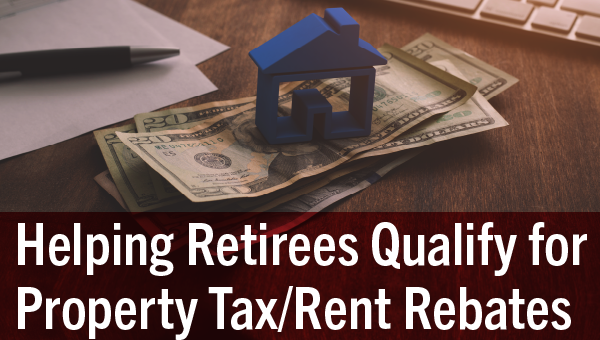 The Senate acted to close a loophole that made many senior citizens ineligible for the state Property Tax/Rent Rebate program. The bill moves to the House of Representatives for consideration.
The problem arose when senior citizens transferred retirement funds into other retirement accounts, which would show up as available income on an application and make the individual ineligible for help lowering their property taxes.
Senate Bill 230 would allow retirees to transfer those retirement account investments between accounts within 60 days without counting toward income when applying for property tax or rent relief. If those funds are not invested into another qualified retirement plan within 60 days, the funds will be considered income.
PUC Offers Tips for Dealing with June Electric Rate Hikes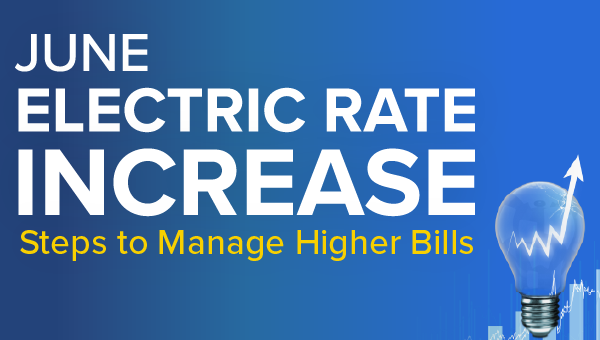 With costs for electric generation increasing on June 1 for many utility customers, the Pennsylvania Public Utility Commission (PUC) is reminding consumers they have options to manage anticipated higher bills.
According to the PUC, the best response for those struggling to pay energy bills is to call utilities and ask about assistance programs, manage energy use and shop for competitive electric generation suppliers. You can find more from the PUC about consumer options here.
The rate increase will occur even before Gov. Tom Wolf's carbon tax kicks in, which could nearly quadruple new electricity costs for consumers. The carbon tax is part of Pennsylvania's entry into the Regional Greenhouse Gas Initiative, which was enacted by the governor without legislative approval.
Further Extension of the Low-Income Home Energy Assistance Program to June 17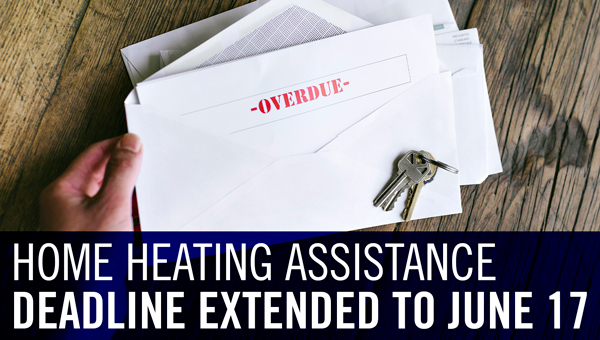 The Low-Income Home Energy Assistance Program (LIHEAP) has been extended a second time to June 17, allowing additional households to apply for help.
LIHEAP is a federally funded program administered by the state that provides assistance for home heating bills. Assistance is available for renters and homeowners.
You can apply for benefits online using COMPASS, or download a paper application, print it, fill it out and return it to your local county assistance office.
Memorial Day: Our Duty to Remember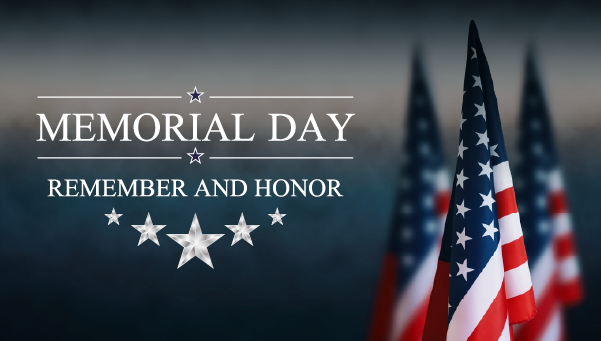 I hope you have a great Memorial Day Weekend with friends and family and take some time to remember the profound sacrifice of those who died fighting for our nation.

Please do not reply to this email. If you would like to contact Senator Baker, submit a web contact form here: https://www.senatorbaker.com/contact-me-2/