In this Update:
Governor Shapiro Offers First Budget Address
Senate Judiciary Committee Update
Historic Breast Cancer Screening Bill Unanimously Passes Senate
Measure Preserving Community Energy Choice Passed by Senate
Senate Approves Legislation to Increase PA National Guard Health Care Providers
Senate Honors 20th Anniversary of Operation Iraqi Freedom
---
Governor Shapiro Offers First Budget Address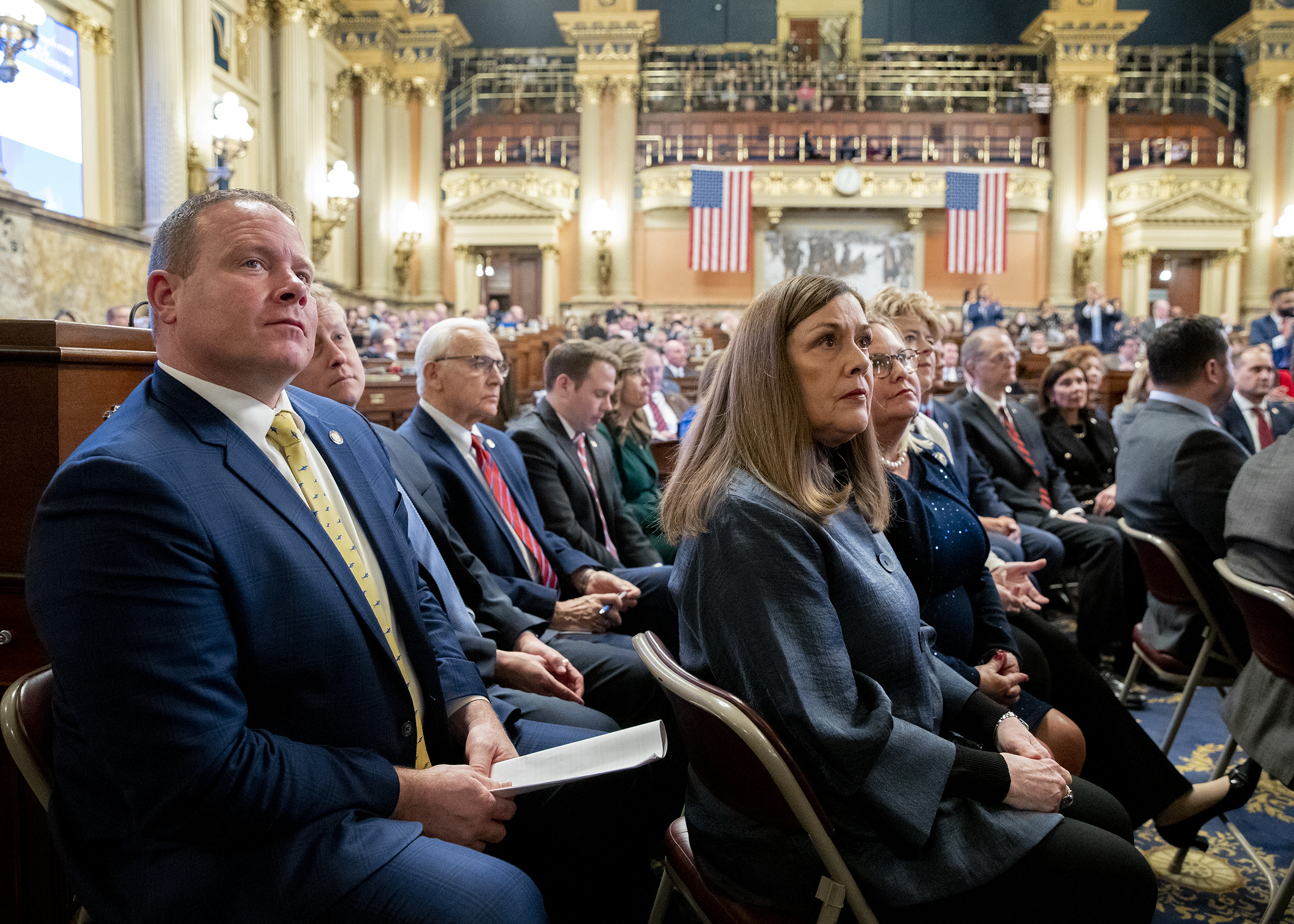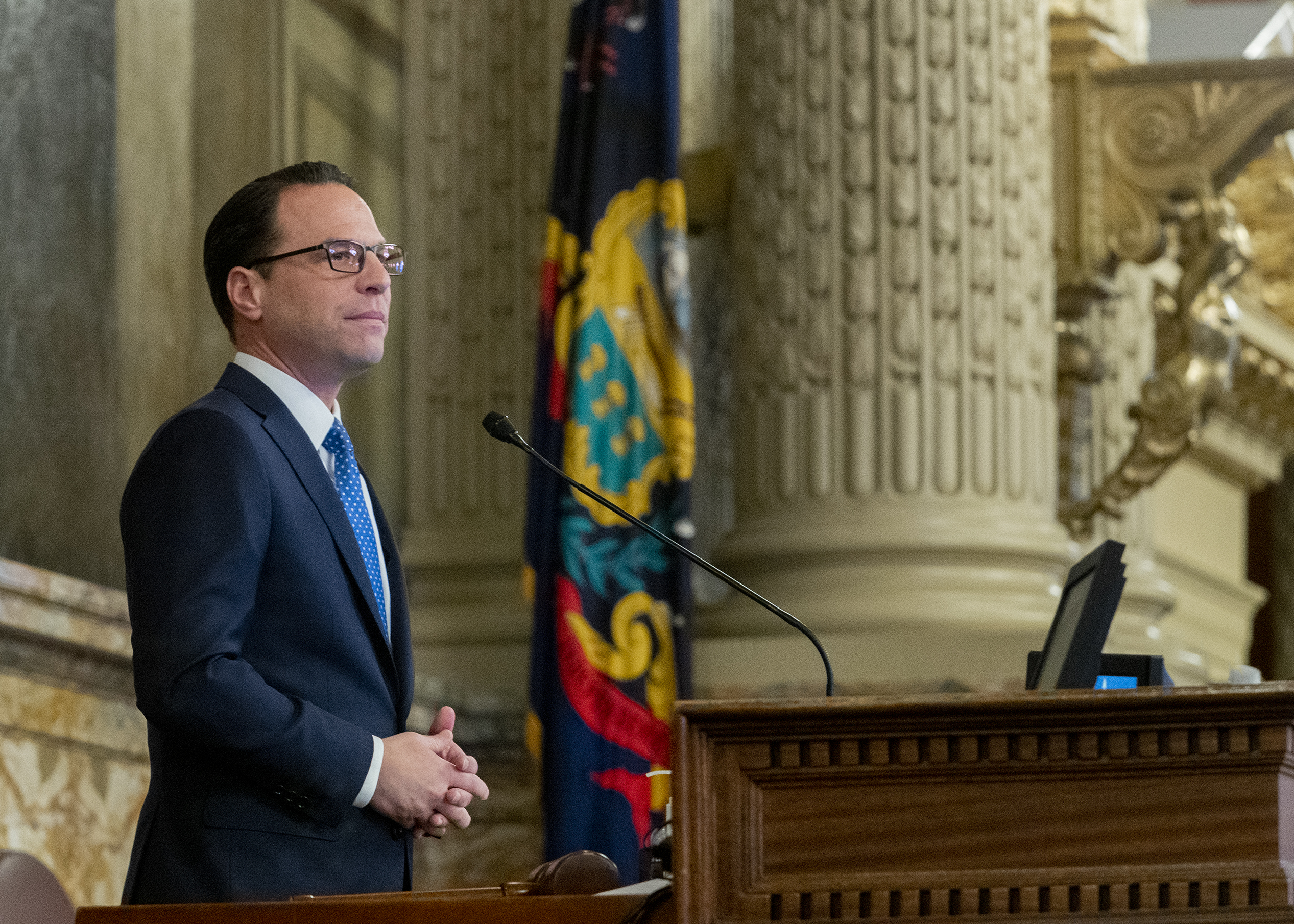 Governor Josh Shapiro delivered his first budget address, proposing a $45.7 billion state spending plan for the 2023-2024 fiscal year. The blueprint would increase General Fund spending by more than $1.3 billion.
He identified several priority issues that are important to residents of the 20th Senatorial District – helping individuals and families keep more of their hard-earned money, creating workforce development and job opportunities, ensuring safe communities, expanding rural access to health care and mental health services, investing in roads and bridges, high speed internet, and other infrastructure improvements.
These are issues that also align with initiatives I am pushing to ensure seniors continue to qualify for much-needed state support like the Property Tax Rent Rebate Program and to expand community and school based behavioral health services.
Recently passed legislation to reduce and cap the transportation funding directed to the state police must be part of the final budget. It is impossible to realize our regional potential for growth without tackling the lengthy list of transportation repairs and replacements, dictated by community safety needs and hopes for economic expansion. This step frees up dollars to help meet these project needs.
Governor Shapiro's focus on indigent defense, probation and parole, and other criminal justice reforms was of particular interest, as these are issues the Senate Judiciary Committee has advanced. His continued commitment to additional state park funding was also encouraging, following our success in establishing the new Vosberg Neck State Park last year.
The first budget proposed by a new governor is a unique exercise because he must work off his predecessor's blueprint two-thirds of the way through the fiscal year. Nevertheless, he aims to put his stamp on it as much as possible.
Thus, the numbers recommended should be seen as merely placeholders. Our annual budget hearings take on added importance as we must discover the depth and direction beneath the numbers. There is no track record yet by which we can measure performance and accountability. We must find out which broad ideas have an affordable and workable plan beneath them.
Pennsylvania's finances are in good shape at the moment, but expert analyses indicate trouble in the years ahead if there is overspending and not enough attention paid to economic growth.
Inflation is still running too high and hurting too many Pennsylvania families. We cannot approve a state spending number that will fuel further inflation or draw heavily against our Rainy Day Fund.
Education funding, which is the first number most people look at, illustrates the point about responsible spending. Pennsylvania is under court order to revamp its education funding system. That involves much more than simply adding substantial money and tinkering with its distribution. There are serious issues of policies, mandates, and practices that must be addressed to make any education reform package effective.
Where federal pandemic funding is ending, we have to take a close look at where hardships will result and determine whether adding some state dollars might be necessary. However, everyone should realize this money was never meant to be permanent. It is unrealistic to expect the state to simply fill the gap. Taxpayers appreciate that Pennsylvania operates under a balanced budget requirement.
Senate Judiciary Committee Update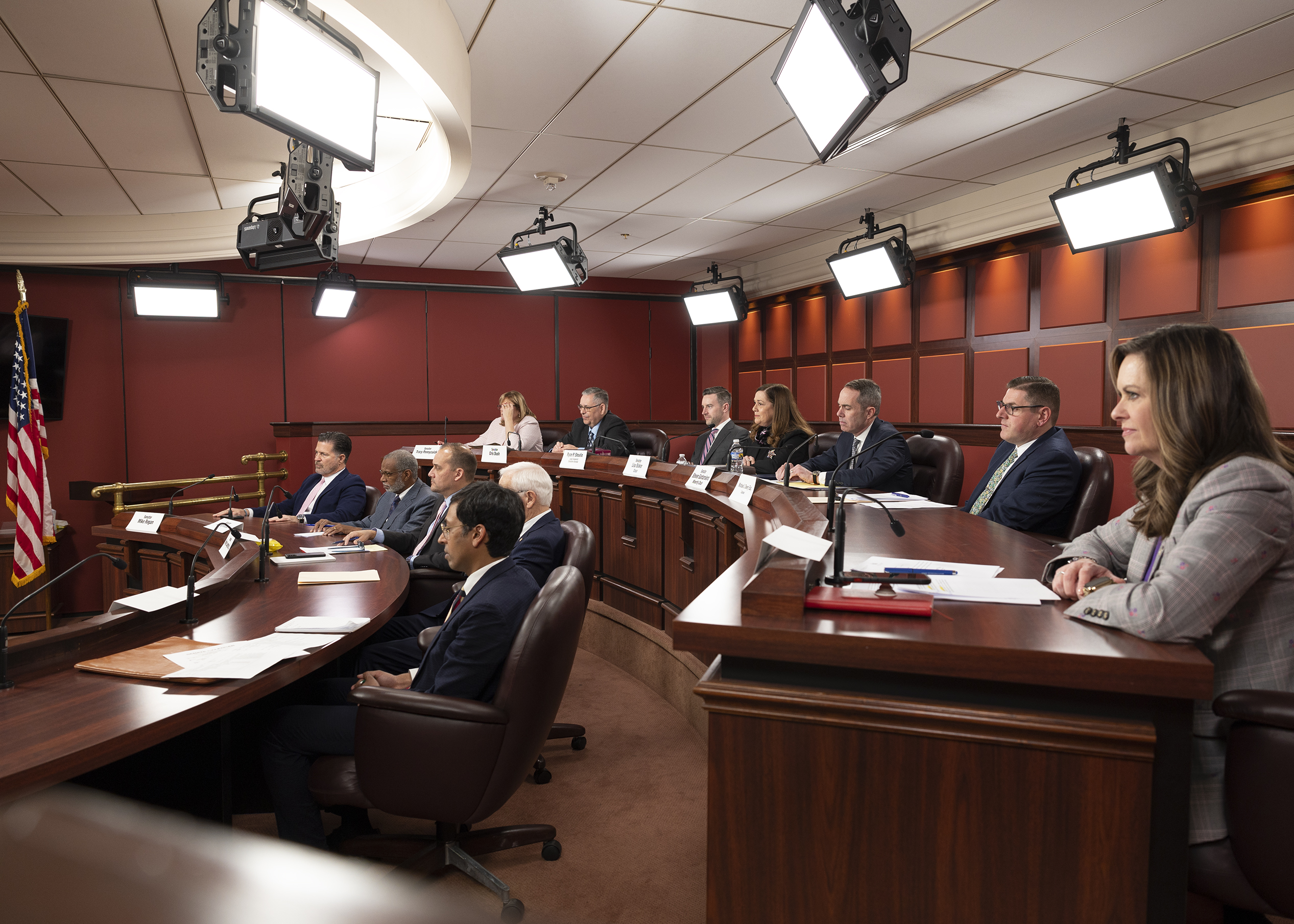 The Senate Judiciary Committee, which I chair, unanimously advanced the nomination of Michelle Henry for Pennsylvania's Attorney General this week.
Attorney Henry, who has 26 years of prosecuting experience, was nominated by Governor Josh Shapiro in January. The full Senate voted to confirm her nomination on Wednesday.
Having had the chance to meet with her one-on-one to discuss justice philosophies and priorities, I see why she has earned the confidence of the governor. Her commitment and capabilities came across very convincingly.
Members also approved four bills this week centered on juvenile justice reform, protecting newborns, and providing adequate defense for defendants.
Senate Bill 169 provides for out-of-home placement disposition review hearings at three-month intervals, rather than nine-month. The review hearings help ensure the juvenile is receiving the necessary services and treatments for their rehabilitation.
Senate Bill 170 updates and standardizes the expungement of juvenile records as recommended by the Juvenile Justice Task Force.
Senate Bill 267 adds urgent care centers as a safe haven in Pennsylvania's Newborn Protection Act.
Senate Bill 371 establishes the Indigent Defense Advisory Committee and establishes the Indigent Defense Grant Program.
I remain dedicated to passing legislation protecting the children of our commonwealth. Updating our juvenile justice system will address its current issues and guide children down a successful path, while also strengthening families. The bills now head to the full Senate for consideration.
Historic Breast Cancer Screening Bill Unanimously Passes Senate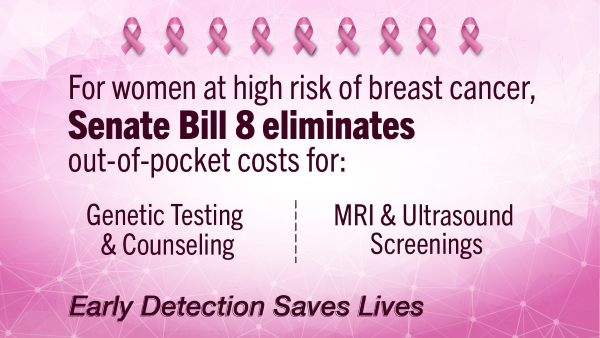 The Senate unanimously passed Senate Bill 8, a comprehensive breast cancer screening and genetic testing bill. The bill now heads to the House of Representatives for consideration.
The bill eliminates out-of-pocket costs associated with BRCA-related genetic testing and counseling, as well as supplemental screening such as breast MRIs and ultrasound for women at high-risk. High-risk conditions covered by the bill include dense breast tissue, a personal or family history of breast cancer, genetic predisposition and prior radiation therapy.
The legislation expands on Act 52 of 2020, which required insurers to cover breast MRIs and ultrasounds for women with high-risk factors. Senate Bill 8 is step two, eliminating costs including co-pays, deductibles or co-insurance for those screenings and BRCA-related genetic testing and counseling.
Measure Preserving Community Energy Choice Passed by Senate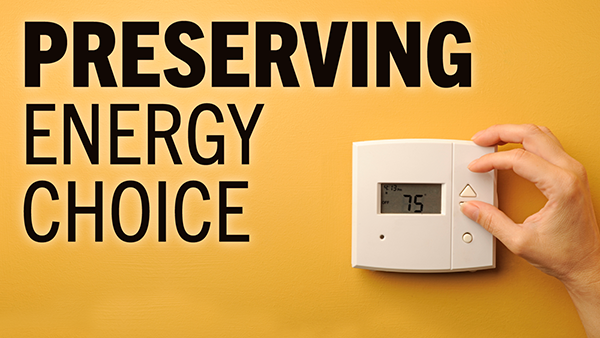 Legislation ensuring that state residents have options when it comes to fuel availability was approved by the Senate. The bill now heads to the House of Representatives for consideration.
Senate Bill 143, known as Energy Choice legislation, would prevent municipal entities from banning a specific type of fuel source for appliances and heating homes or businesses.
The measure was developed after cities across the nation took steps to ban fuels, such as natural gas and heating oil, in newly constructed buildings. The legislation is an important component of a sound energy policy for Pennsylvania that's inclusive of all energy options residents may want or need to access.
Senate Approves Legislation to Increase PA National Guard Health Care Providers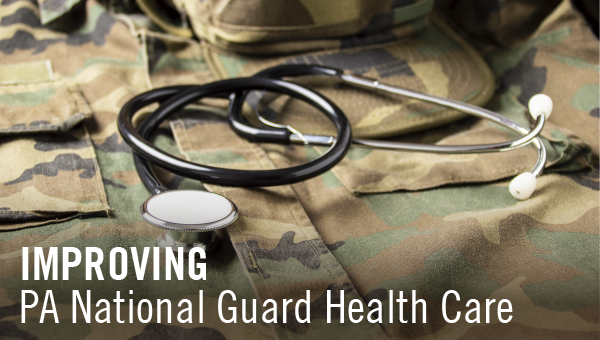 The Senate approved legislation that would allow more health professionals to participate in the Medical Officer Health Incentive Program, helping to ease the shortage of medical specialists in the Pennsylvania National Guard.
The Medical Officer or Health Officer Incentive Program was created in 2014 to provide a tuition reimbursement incentive to those who qualified through their time in the armed services. Even though the program was successful in attracting health care providers into National Guard service, some health professionals, like dentists and physician assistants, were inadvertently left out of the program.
Senate Bill 162, which fixes that oversight, now heads to the state House of Representatives for consideration.
Senate Honors 20th Anniversary of Operation Iraqi Freedom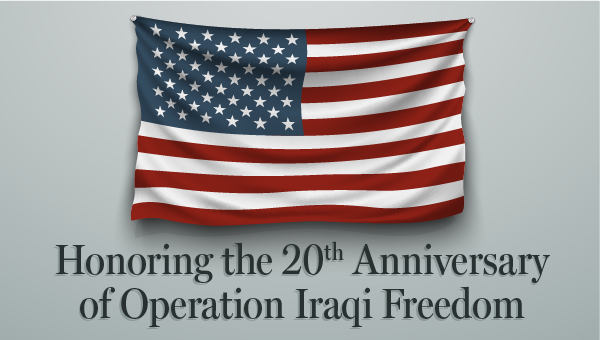 The Senate marked the upcoming 20th anniversary of Operation Iraqi Freedom with a resolution this week.
In 2003, the United States and coalition forces began the mission to liberate Iraq from dictator Saddam Hussein and extend freedom and democracy throughout the region. On March 20, 2003, the beginning of Operation Iraqi Freedom was marked with airstrikes on Saddam Hussein's presidential palace.
Operation Iraqi Freedom ended on Dec. 15, 2011.

Please do not reply to this email. If you would like to contact Senator Baker, submit a web contact form here: https://www.senatorbaker.com/contact-me-2/