Hawley Adult Day Care Center Opening

The new Wayne County Adult Day Services Center is a terrific example of what can happen when people think about the future, plan ahead, and cooperate between levels of government and within the private and public sectors. Community-based senior care was lacking in the Hawley area, so Wayne and Pike counties teamed up with Telespond Senior Services, the Department of Aging, the United Way and others to help address the issue. At the heart, all that we do in the name of human services should be designed according to the needs of families and offered in a welcoming setting. This program and facility certainly meet that test.
---
Budget Hearings
The Senate Appropriations Committee is conducting hearings with officials from more than two dozen departments, agencies and offices to examine Gov. Wolf's proposed 2017-18 budget. Those hearings are broadcast live at www.pasenategop.com and are archived on that website to watch at any time if you can not watch them as they occur.
Because of the well-documented financial challenges facing us, and the disagreements over the past two years, this plan will require more in-depth scrutiny than is customary. There will be a lot of digging into the details and testing the practicality of the proposals on both the spending and revenue sides. I welcome your feedback as these discussions continue.
---
Department Consolidation
As the chair of the Senate Health and Human Services Committee, I am paying particularly close attention to Gov. Wolf's proposal to consolidate the Departments of Aging, Drug and Alcohol Programs, Health, and Human Services into one department.
Any idea to increase accountability in state government deserves a serious, thorough review.
Unlike the recent prison closure decision, state legislators have a direct say in whether, when, and how this plan takes place.
Potential local impacts are something we will be looking to determine through public hearings, so the perspectives and concerns of local service providers and the individuals and families who utilize those services will be extremely important.
---
Out And About In The District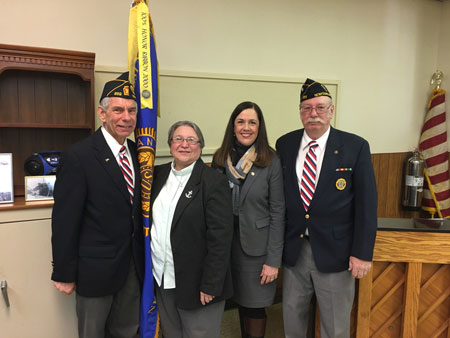 It was an honor to be in Greentown on February 4 to help induct David Guccini and Thomas Haser into the Legion of Honor Chapel of Four Chaplains. The two honorees are members of Phillips-Zacharias-Phillips American Legion Post 859 in Newfoundland and have extensive and compelling stories about faith, service, and commitment. The fulfilling paths they have chosen and the wide range of their constructive community involvement help bring about unity and encourage optimism. Their lives are examples of why we should always appreciate the virtue in honoring our veterans.
I thoroughly enjoy the time I spend attending events and meeting with people throughout the 20th District. To keep up with my legislative and community activities, please check out the photo gallery on my website, www.senatorbaker.com and follow me on Facebook and Twitter.