SCI Waymart and SCI Retreat Will Remain Open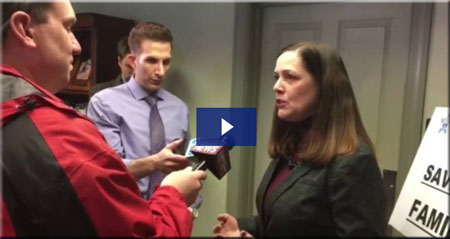 The decision to keep SCI Waymart and SCI Retreat in operation is a terrific example of communities, officials and citizens alike, rallying to safeguard their interests and stopping a shortsighted decision whose negative consequences would have rippled across the region.
Local officials deserve credit for the thorough job of assembling compelling documentation of the benefits derived from the institutions at Waymart and Retreat. In addition, detailing the costs and complications that would arise from a move to close either of these facilities surely contributed to the determination they will remain open. This news comes as welcome relief to area communities and residents.
Over the last several weeks, it has become clear that we need to put a process in place that ensures community involvement earlier in state decision-making. I have signed onto a Senate bill that will put a community public hearing requirement into state law.
It is impossible for anyone to determine the length of this reprieve. Given the continuing fiscal distress confronting state government, and the prospect for action on additional legislation altering sentencing practices, we cannot count on this being the last round of prison closures. So we need to continue building the case and undertaking the advocacy that will ensure we are prepared to meet head-on any future attempts at closure.

---
No More Registration Stickers From PennDOT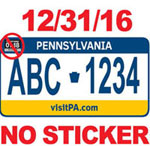 In order to save money and increase efficiency, PennDOT has stopped issuing registration stickers. However, motorists must still register their vehicles. Law enforcement agencies have electronic access to PennDOT's database from their patrol vehicles, which allows them to verify if a vehicle registration is valid. In addition, many use license plate reader technology to efficiently validate registrations. The new rules also provide the option of renewing registrations for two years.
To learn more about the changes, click here.

---
2017 Calendars Are Available
Winning photographers in our third annual 'Scenes From the 20th Senatorial District' photo contest have been announced. The winning pictures were chosen from more than 100 entries submitted of images from throughout Luzerne, Pike, Susquehanna, Wayne and Wyoming counties. Nearly 6,800 votes were cast.
I continue to be impressed with the quality of the photographs submitted and appreciate people taking the time to share their talents. We are certainly fortunate to live in such a beautiful part of the state.
This Year's Winners Are:

JANUARY: Ann Malon, Greeley – Swinging Bridge in Hawley;

FEBRUARY: Karen Colaiaco, Matamoras – Dynamic Duo in Matamoras;

MARCH: Janie Stabinsky, Mehoopany – Sunset in Wyoming County in Jenningsville;

APRIL: Sally Chumard, Hamlin – Hanna Dressed For Rain in Honesdale;

MAY: Mike Mancino, Lackawaxen Township – Patriotic Vanderbeek Farm in Lackawaxen;

JUNE: Lisa Eastwood, Tunkhannock – This Chipmunk Was Acting Shy in Tunkhannock;

JULY: Gloria Eastwood, Tunkhannock – The Beauty of the Hummingbird in Tunkhannock;

AUGUST: Eileen Chorba, Beach Lake – Relaxing Under The Apple Tree in Berlin Township;

SEPTEMBER: Sarah O'Fee of Hawley – The Serenity of Fall at Silver Birches in Tafton;

OCTOBER: Eileen Chorba, Beach Lake – Church Steeple in Honesdale;

NOVEMBER: Emily Roberts, Forest City – Metal Grate Bridge in Aldenville;

DECEMBER: Sally Chumard, Hamlin – Come Down and Play in Hamlin.
A limited number of calendars are available. To request your free copy, call or stop by one of my district offices during normal business hours of 8:30 a.m. to 4:30 p.m.: 2512 Route 6, Hawley, in the lower level of the Lake Wallenpaupack Visitors Center, 570-226-5960, or 22 Dallas Shopping Center, Memorial Highway, Dallas, 570-675-3931. To see a printable version of the calendar, click here.

---
Committee Assignments Announced
The 2017-18 legislative session will bring new responsibilities for me and my staff, with my assignment as chair of the Health and Human Services Committee.
I have always had an interest in health care matters, and this new assignment offers the chance for deeper involvement. The legislation we consider affects consumers, service providers and recipients, health care professionals, businesses and workers. I constantly hear concerns from families, patients, doctors, nurses, hospital and home administrators, and others in the communities of our region.
We have to figure out ways to increase access and improve quality within the constraints of a difficult state budget picture. There are important continuing issues we need to confront, ranging from dealing with the opioid abuse crisis, to enhancing programs for individuals with intellectual and physical disabilities, to improving access to mental health services.
The committee will also play a key role in determining how Pennsylvania adapts to the federal health care law changes the incoming administration has pledged to pursue.
Additionally, I will remain a member of the Aging and Youth, Appropriations, Consumer Protection and Professional Licensure, and Veterans Affairs and Emergency Preparedness committees.