Seasonal Workers To Benefit From
Unemployment Compensation Changes
More than 40,000 seasonal or cyclical workers are once again eligible for unemployment compensation after legislation I supported was signed into law. The bipartisan effort that restores benefits while ensuring the long-term solvency of the unemployment compensation system was the focus of a pair of Senate Labor and Industry Committee hearings held in Erie and Philadelphia last year, following reports that seasonal workers were disproportionately impacted by a 2012 revision to the formula used to calculate unemployment compensation.
The testimony compelled a thorough look at the issue and helped to put us on the path to a responsible remedy.
That labor and employers, Republicans and Democrats, legislators and the administration could find acceptable common ground on a contentious issue is a constructive result Pennsylvanians deserve more of. The unemployment compensation issue shows how state government should operate – attack a big problem, figure out how to combine economic reality and the public interest, put in place a thought out and equitable solution, and move to address the glitches as they become apparent through experience.

Sen. Lisa Baker looks on as Gov. Tom Wolf signs HB 319 into law on Nov. 3. Act 144 will help to ensure that seasonal workers and those who need unemployment insurance will have better and more efficient access to those funds

---
Baker Pushes For Resolution Of Long-Running Dispute
Over Wayne County Land And Water Uses;
Seeks To Intervene In DRBC Litigation
Recently, I joined two other state Senators in seeking to intervene in a lawsuit filed by the Wayne Land and Mineral Group against the Delaware River Basin Commission. At its heart, the lawsuit contends the DRBC has overreached its authority and taken control over what should be legislative decisions. Having listened to the concerns of many Wayne County landowners and local officials about the negative economic impact the long-running moratorium is having, and to the views of individuals and groups who believe that environmental protection is paramount, I concluded this matter should be resolved in a timely manner.
This may seem to some people a contradictory action, when in fact it is quite consistent. My position on various drilling matters has not changed. I continue to support tougher drilling standards such as setbacks and am still pushing for legislation increasing pipeline safety standards. This effort to intervene reflects disagreement over where decision making should occur. It does not dictate the outcome of the debate.
My vote against Act 13 was prompted in large part because I felt that overriding local zoning rules and taking away community discretion was unfair and inappropriate. The situation with the moratorium presents an even more intrusive set of circumstances. Here we have a federally sanctioned commission, made up of states with competing interests, sustaining an indefinite moratorium that affects property owner rights, business investments, and job creation prospects. The purpose of the lawsuit is to force a decision. Other parties were recently granted approval to intervene, so it is important for this point of view to be fully represented in the litigation.
When a decision is rendered, either side may choose to pursue legal remedies. My participation sends a message that people on both sides of the issue believe the matter is to be decided by the state legislature and not a commission far removed from community interests.
There is an additional factor making the moratorium controversial. Natural gas drilling is proceeding in the Susquehanna River basin immediately to our west. It is hard to justify that completely different standards seem merely a matter of geography.
Concededly, the starting point for this collision of interests is natural gas drilling. But there are serious consequences beyond drilling. The water use issue could be used to block the location or expansion of any business or enterprise that uses large quantities in their operations. Effectively, then, competing states could be dictating curbs on local economic hopes and job creation plans.
Obviously, there are many people who feel deeply about this issue, and who have engaged in concerted public advocacy, on both sides. Given such extensive concern and involvement, these matters should be settled through action, not delayed interminably.

---
Veterans Day Marked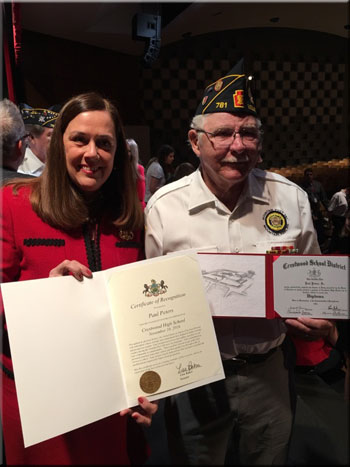 Pleased to present veteran Paul Peters with a certificate honoring his long-overdue high school diploma. During a Veterans Day ceremony, Crestwood School District presented him with his diploma four decades after he set aside his education to serve our country in Vietnam.
I participated in so many wonderful Veterans Day events throughout the district. In Wayne County, I was on hand to watch the dedication of the impressive Walk of Honor display near the courthouse in Honesdale. In Wyoming County, the Sheldon-Kukuchka families hosted the annual Veterans Day breakfast featuring patriotic music by Tunkhannock students. School events at Northwest Area and Crestwood also honored our brave men and women, including Paul Peters, who was awarded his high school diploma by Crestwood after setting aside his education to serve our country in Vietnam. And in Pike County, I was pleased to honor Barbara Child during a ceremony at Twin Cedars Assisted Living Center in Shohola where I heard her inspiring personal story as a WWII WAC veteran and NASA retiree.

---
Home Energy Assistance Program Now Accepting Applications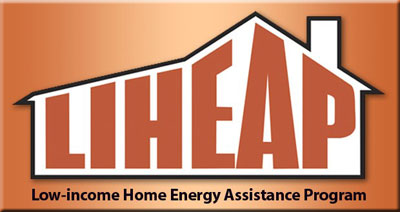 The Low-Income Home Energy Assistance Program, also known as LIHEAP, helps low-income families pay their heating bills. LIHEAP is a grant that offers assistance in the form of a cash grant, sent directly to the utility company, or a crisis grant for households in immediate danger of being without heat.
To learn more, please click here.