PA ABLE Savings Program Opens in December
I was proud to work with disability advocates from our area and across the state to pass Pennsylvania's Achieving a Better Life Experience Act.
PA ABLE is a savings program similar to the popular and successful tuition plans many parents have used to help pay for college. Intended to alleviate some of the financial challenges faced by families raising and caring for those with disabilities, the accounts allow families to continue to receive essential services while also planning for the future. Setting aside money to overcome barriers or for protection against serious setbacks would be encouraged instead of being penalized.
PA ABLE accounts:
Provide people with disabilities with a way to be more financially independent.

Save on taxes; accounts grow tax-free and, when used for qualified disability expenses, are tax exempt.

Protect eligibility for means-tested federal benefits and state disability, medical assistance, health, and student aid benefits.

May be used to pay for a wide range of disability expenses including basic living, housing, education, health, legal, transportation, and more.

Allow others to give funds to the eligible individual without the gift impacting benefits.
Enrollment is scheduled to open in December. For more information click here or visit www.PAABLE.gov.

---
Honoring Korean War Veterans

On October 11, along with Sen. Pat Toomey's office and fellow state legislators, I was humbled to participate in an event at Dallas High School where 18 Korean War veterans were lauded and presented with Ambassador of Peace medals from the Korean Consulate.
It was great to see these brave men and their families and I thank the students in attendance who were able to witness and hear about an important but underappreciated chapter of American history. This program combined elements of patriotism and faith, principles that motivate our veterans and many of our citizens.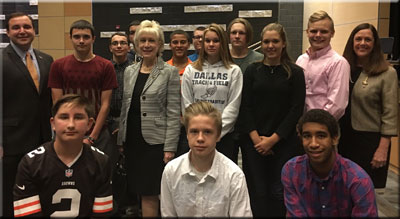 We were reminded that not all lessons of value and impact are instilled in the classroom and that we can learn a lot from the service and sacrifice of others.
The Korean War has too long been shortchanged in recognition. It is well that we take steps to rectify that while we still have veterans of that conflict among us. The medals given that day are but a small expression of the gratitude we feel toward those who defended freedom for us.
Those who fought in Korea were also part of what we now call the Greatest Generation. We should accord them respect and show curiosity about their experience as we do for World War II veterans. And we know some pulled duty in both conflicts. This was the first hot conflict of the Cold War. There were strategic triumphs, major miscalculations, and in the end stalemate and truce. Veterans tell of brutal cold, miring mud, and hordes of Chinese.
We should recognize Inchon, the Chosin Reservoir, the Pusan perimeter, the three battles of Seoul, Pork Chop Hill, and the Punchbowl, the places where uncommon courage and gritty determination were demonstrated.
There is finally, on the Mall in Washington D.C., a moving memorial to those who fought in Korea. It was dedicated 42 years after the armistice that brought formal end to the hostilities, although the two Koreas still face off across a DMZ.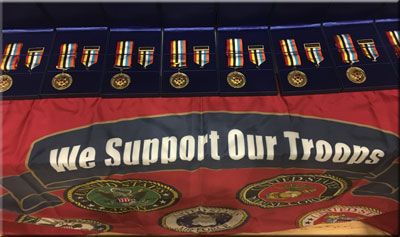 Look at the vastly different circumstances between South Korea and North Korea today – economic, cultural, moral – and it is clear that our involvement had a purpose and a lasting result. South Koreans have not forgotten what was done to save them from being rolled over by the tide of communism.
Korea was a costly conflict. Many did not come home, and many who did had a tough go of things. We are grateful to all who served. This area was well-represented, as has been the case in responding to threats throughout the life of America. We are proud of what these men did, and I was honored to be in their presence.
When we presented the Ambassador for Peace Medal it was accompanied by our eternal gratitude, deep admiration and great respect.

---
The Baker Report Focuses on The Arc of Luzerne County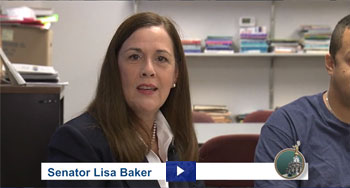 The fall edition of The Baker Report is now available. Take a look, meet some folks from The Arc of Luzerne County and hear about all of the good they do for area residents and the progress that has been made by our community members with disabilities and their families.

---
Opioid Town Hall Draws Thousands
On September 21, I was pleased to join with my Republican colleagues in the state Senate to host the first of a series of regional Telephone Town Halls, highlighting the statewide public health crisis of heroin and opioid abuse in Pennsylvania and connecting listeners with local experts to provide education and assistance. Residents from throughout northeastern Pennsylvania were able to dial in and be part of a very important discussion on the crisis that is affecting each county in the 20th Senatorial District and beyond.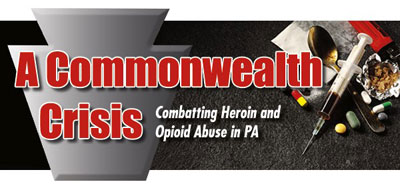 For the thousands who took part, I hope it was educational, eye-opening and enlightening. For those who weren't able to, you can listen to a recording of the town hall by clicking here.
There will be additional telephone town halls for other regions of the state in the upcoming months. The issue is not going away and rest assure the Legislature is aware of the problem and is vigilantly working to come up with legislative solutions to address the crisis.