Tax-Free Saving Plan for Disabled Unanimously Approved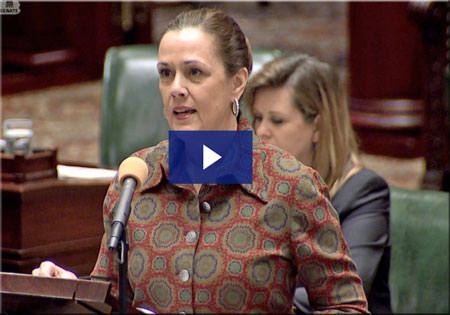 In every way, policies and programs designed for individuals who have a disability should aim at helping them achieve the greatest level of independence their capabilities and spirit allow. That is the purpose of legislation I introduced, which recently became law.
Pennsylvania's Achieving a Better Life Experience Act, or PA ABLE as it is known, is a savings program similar to the popular and successful tuition plans many parents have used to help pay for college. Intended to alleviate some of the financial challenges faced by families raising and caring for those with disabilities, the accounts would allow families to continue to receive essential services while also planning for the future. Setting aside money to overcome barriers or for protection against serious setbacks would be encouraged instead of being penalized.
In my experience, no one works more diligently and more passionately than disability advocates, and that includes groups, families, and individuals who relate their personal stories. For them, this is a victory well-earned and well-deserved.
For more information on PA ABLE, click here.
---
Scenes From the 20th Photo Contest Returns

Spring has sprung in northeastern Pennsylvania! Once again, I am calling on area shutterbugs to participate in the 3rd annual "Scenes from the 20th Senatorial District" Photo Contest, which is now accepting submissions.
Grab your cameras and head out into your backyards, state parks and elsewhere to click away and share your piece of the 20th Senatorial District. Whether it's that historic stone church you drive by each day or an eagle swooping down for a fish in the river, the annual Memorial Day parade or a school event, I urge each of you to share the sights and scenes of this picturesque corner of Pennsylvania.
Last year, more than 200 photographs were entered and nearly 23,000 votes were cast to select the winning entries.
The theme of this year's contest is "Seasons" and the top three photos selected by the public in each of the four seasons will garner a month during that season in the 2017 calendar.
Contestants can view the rules and submit their favorite photographs by going to my website through September 15, 2016. The 12 photos receiving the most votes will serve as a featured month in the 2017 "Scenes from the 2oth Senatorial District" Calendar. Voting will begin September 16, 2016, and voters will be permitted to cast one vote per IP address per day through October 14, 2016.
The contest is open to everyone, but photos must have been taken in the 20th Senatorial District, which includes all of Pike, Wayne and Wyoming counties and portions of Luzerne and Susquehanna counties. Click here to see a map of the 20th District.
---
Drug Take Back Set for April 30
Several locations throughout the 20th District will take part in a drug take back event on Saturday, April 30 from 10 a.m.-2 p.m. Sponsored by Rotary Clubs of Tunkhannock, Hawley, the Abingtons, Dallas, Milford-Matamoras and Montrose, unused or expired medication can be brought to these locations and dropped off so they can be disposed of safely. The locations in the 20th District include:
Luzerne County
Kingston Township Police Department

Pierce Street Drugs in Kingston
Wayne County
Pike County
Susquehanna County
Schneiders Market in Susquehanna Depot

Great Bend Police Department

State Police Barracks in Gibson

Forest City Emergency Services Building

Susquehanna County Courthouse in Montrose
Wyoming County
Lackawanna County
---
Out and About in the 20th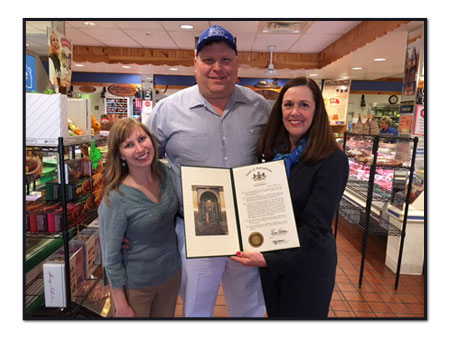 I stopped by The Alpine Wurst & Meat House in Texas Township recently to present a Senate Citation to the Eifert family, congratulating them for winning multiple medals at a competition held Jan. 11-13 in Madison, Wisconsin. The competition, run by the IFFA, an international trade fair for processing, packaging and sales in the meat industry, was organized by the German Butchers' Association in conjunction with the American Association of Meat Processors. Mark Eifert and his father Klaus will fly to Frankford, Germany in May to accept their medals in person.
The Alpine received gold medals for their bratwurst, braunschweiger and krainerwurst; a silver medal for pork and beef frankfurters; and a bronze medal for weisswurst. The competition involved more than 300 entries from entrants in 15 states and involved judges from Germany who graded the food on appearance, consistency, smell and taste.
While at The Alpine, I toured the business, learned about their new equipment and how the family business uses technology to serve preservative-free meats with a longer shelf life. Congratulations to the Eiferts.
To see more photos, go to my online gallery here.
---


Dallas Office is a Food Drive Drop Off Site
The Back Mountain Chamber of Commerce's Spring Food Drive is in full swing. Drop off your donations at my Dallas office through April 30th.
The food drive, which will benefit the Back Mountain Food Pantry, is a collaborative effort by the Back Mountain Chamber, its members, local merchants, area schools, banks, and others.
The goal is to collect several tons of non-perishable food items that can be distributed to our friends and neighbors in need.
For a complete list of drop off locations and how to make a monetary donation, click here.