The Ongoing Budget Standoff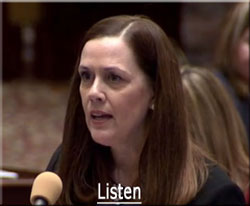 On September 18 the Senate voted to support a stopgap budget to help fund much-needed social services and school districts. The measure is being considered by the House.
This is not an ideal approach to the state budget, and there is no pretending otherwise. It is not the end of the disagreements that have us still knotted up two and a half months past the deadline. Maybe, hopefully, it is the beginning of the end. However, this stopgap spending measure is an absolutely critical step for education and community institutions and for human services fueled by state funding.
I have met with a wide variety of groups and individuals. School officials, job training officials, representatives of the YMCA, Meals on Wheels, domestic violence shelters, and more. They have expressed frustration, desperation, resignation, and some harder-edged sentiments. Across the state, there are sharply differing views on taxes, spending, pensions, state stores, and the other points of contention. But there is nearly unanimous agreement that having state funding turned off in mid-September is without justification.
The situation is far more serious than the governor's unfortunate characterization of it as a "temporary inconvenience." The current absence of funding for schools, social services, and other community efforts is unnecessary. Individuals and organizations have more than enough challenges in their operations, without having to scramble for emergency funding, to juggle bills, and to make discouraging decisions on where and when to cut back. We cannot turn back the clock on the decision to veto the entire budget, but we can and should move constructively to alleviate the disruption going forward.
Without question, a stopgap budget is not a preferred tool in any manual of government operations. But with the when and how of a budget agreement still very much an open question, we cannot ignore what an essential life preserver it is for those providing and those depending on vital services across our communities.

---
Tax-Free Savings Plan Would Aid the Disabled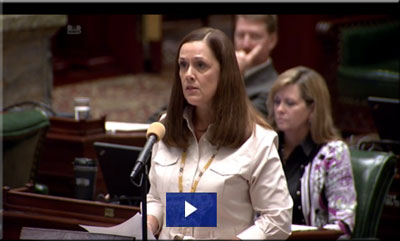 Caring for a loved one with disabilities can be difficult physically and emotionally. This is compounded by the steep financial challenges involved. But families could be given a tool to help if a tax-free savings plan I proposed is approved.
Currently, it is extremely difficult to set aside money to meet obligations or create opportunities for disabled individuals without jeopardizing their benefits. A federal law signed in December – the Achieving a Better Life Experience Act – gives Pennsylvania the flexibility to offer an ABLE savings program, similar to the popular and successful tuition accounts many have taken advantage of over the last 20 years. Qualified expenses would include education, housing, transportation, and employment. Funds would supplement, but not replace, services provided through private insurance, Medicaid, SSI, employment, and other sources.
We are changing policy to encourage and support family initiative and responsibility to help people gain as much independence as their abilities allow. Individuals will be able to achieve independence because their initiative will be rewarded rather than penalized and discouraged.
SB 879 passed the Senate unanimously and now heads to the House for consideration.

---
Pennsylvanians Can Now Register
To Vote Online
Residents can click here for online voter registration. Please note that October 5 is the last day to register if you wish to vote in the November 3rd election.

---
Final Days To Vote For Photographs In My Calendar Contest

There are still a handful of days remaining for you to review, enjoy and then vote for your favorite wonderful scenes from the 2oth District for my annual calendar contest. Voting started September 1 and ends Sept. 30. So check out my website and vote for your favorite pictures in the four categories representing the year's four seasons. The votes will determine which photographs appear on the pages of the 2016 "Scenes From the 20th Senatorial District" calendar.

---
Senior Expo To Be Held in Luzerne County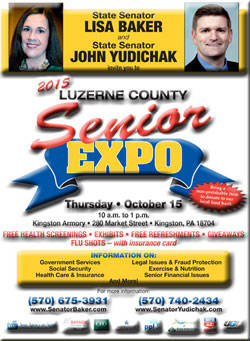 Click to Enlarge