Remembering Lt. Gen. Daniel J. O'Neill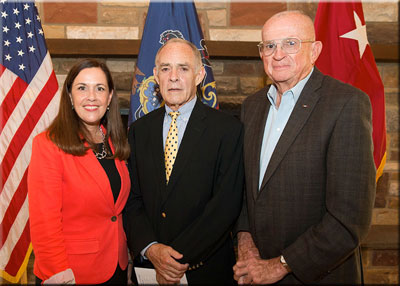 Sen. Lisa Baker, Maj. Gen. (Ret.) William Lynch and Lt. Gen. (Ret.) Dan O'Neill were on hand as
Senator Baker was inducted into the Pennsylvania Department of Military and Veterans Affairs Hall of Fame
on July 15, 2014.

There are questions commonly asked these days: Where are the admirable leaders? Where do we find the skilled, the committed, the community-minded, the good-hearted? What happened to old-fashioned integrity and trust?
Unfortunately, our region and the entire Commonwealth lost an individual possessing all these traits with the passing of Lieutenant General Dan O'Neill. But we were blessed with his inspiring presence and his four-star performance for a very long time.
Because of his physical stature, most of us had to look up to him, literally. Because of his moral stature and impeccable character, we had the privilege of looking up to him in the figurative sense as well.
When people talk about Dan, it is almost always about his personal qualities, the characteristics that made him a friend, mentor, advisor, and role model to so many. His life was guided by what he wanted to give, rather than what he wanted to take. Always there was balance. This was not a man who sacrificed family life for professional advancement.
Years ago, then Governor Tom Ridge wanted to name Dan as state Adjutant General. Without question, Dan was eminently qualified, and this would provide the platform to accomplish some needed things for the Guard and for veterans. But Dan had family and community commitments that he could not surrender, irrespective of the title or position being offered, so he declined. People trusted him and relied on him because they knew his word was good and his priorities were straight.
His words counted, because they were born from action, experience, and prudence. No seeking the spotlight, no courting controversy, no dividing people for devious purposes. When he spoke, it was measured and meaningful.
His resume is exceptional – military man, educator, community leader. If we took just one of his endeavors, it was a life well-lived. In combination, his contributions and accomplishments are extensive and extraordinary.
The Pennsylvania National Guard has a solid reputation and a record of dependability. That is a reflection of quality up and down the ranks. But for a team to constantly perform at its best, you need good leaders, and Dan was beyond good.
When he found his place and purpose, he stuck with it. Education administrators tend to move around. They find a better situation. They are recruited. They are pushed out. They weary of the burden of responsibility and expectation. It is hard to find a match for the expressions of friendship and respect coming from his colleagues, his successors, and the community at large. Dan earned and received these in abundance.
There was another aspect of his leadership that was very uncommon. Wherever he was, whatever he touched, he made the situation better. Not just on his talents and contributions alone, as sizable as they were. When you were around him, you wanted to elevate your game. When Dan was involved, it meant that you were going to be extra careful not to spend any time in the gray areas of ethics or get within shouting distance of the line of misconduct. His ethical bearing was as ramrod straight as his military bearing.
It seems strange to describe the passing of a 78-year-old as unexpected. Dan was such a constant, such a stalwart, such a standard-setter, that we did not think about his mortality. Dan was always there, always to be counted on, and that seemed the natural state of things.
For anyone who wants to truly understand and appreciate the meaning of the phrase "leadership by example," they can find it in the life of Daniel J. O'Neill. His life, his work, his values, his counsel, his contributions, these things will live on forever, in our hearts, across our communities. I am honored to have called him friend.

---
Fox & Friends Highlights PA's Efforts
to Crack Down on Stolen Valor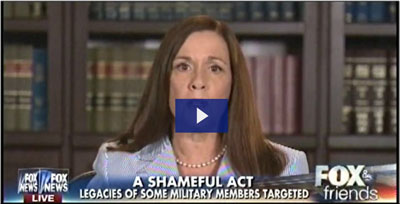 Last month, I told you about a new state law to punish individuals who falsely claim veteran status on driver's licenses and photo IDs. I was honored to be invited to make an appearance on the Fox News Channel morning show Fox & Friends to discuss the legislation and help shine a spotlight on our efforts to crack down on stolen valor. I am hopeful other states will follow Pennsylvania's lead.

---
Scenes From the 20th Senatorial District Calendar Contest
Voting Set to Begin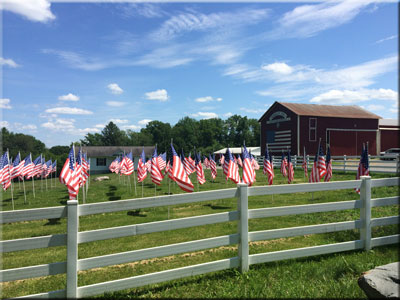 A field of American flags by a barn in Lackawaxen Township is just one of the many
images that illustrate how beautifully photographic the 20th Senatorial District is.

There are still a handful of days remaining for shutterbugs to snap up those wonderful scenes from the 2oth District for my annual calendar contest. Starting September 1, the submission period closes and the voting process begins. So check out http://www.senatorbaker.com/photo-contest this month to submit a picture or login through September 30th to vote for your favorite pictures in the four categories representing the year's four seasons.

---
Committee Holds Hearing on Unemployment Compensation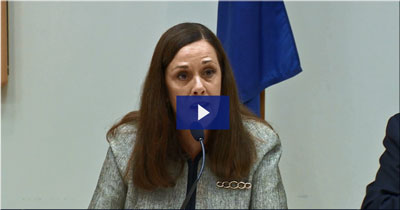 The Senate Labor and Industry Committee recently held a public hearing to examine changes to unemployment compensation eligibility and potential negative impacts to seasonal workers.
Under Act 60 of 2012, the General Assembly took measures to reduce a $4 billion debt to the federal government and address the long-term solvency of the unemployment compensation system. One significant adjustment modified how eligibility is calculated resulting in a disqualification for workers who earn 50.5 percent or more of their annual income in one quarter, where the previous threshold was 63 percent.
For some time now, reports have been coming in indicating that the latest round of reforms to the unemployment compensation law are adversely affecting seasonal workers. The hearing offered some valuable information to help us determine the extent of the problem and the practicality and cost of potential remedies.
For an agenda and complete testimony, click here.

---
Senate Approves Tax Exemption for Active Duty Military Pay

National Guard members could see active duty military pay exempted from local taxes.

Active duty military pay would again be exempt from local taxes if Senate Bill 652 becomes law. The policy had been in place for 50 years, until changes intended to improve tax collection enforcement inadvertently ended the exemption in 2012.
The military operations of the Pennsylvania National Guard have increased tremendously in the past few years as more and more personnel have been ordered to serve at home and abroad in support of major deployments. These soldiers are required to take leave from their families and professional careers – often at lower pay – to serve our country, and I believe the wages they earn for this service should not be subject to taxation.
The legislation was approved unanimously by the Senate to correct the problem and expand the benefit to include all active military service, whether earned inside or outside of the Commonwealth. Wages earned during training exercises or other inactive duty would continue to be taxed.