Helping Young People with Disabilities Get A Job Boost
Many young people with disabilities want to enter the job market, but do not have the support they need to make that dream a reality.
To help them succeed, I have reintroduced a bill to require the state to match federal funds to more fully prepare individuals with physical and intellectual disabilities for employment.
While many young people with disabilities have the desire and ability to work at competitive employment, only two in ten are currently working. I have met so many young people with physical and intellectual challenges who are eager to work. With the proper support, we can fulfill their dreams and better utilize our resources to empower them to succeed.
SB 200 will allow the Office of Vocational Rehabilitation (OVR) in the Pennsylvania Department of Labor and Industry to hire more job counselors to fund part-time and summer jobs and internships for young people with disabilities.
This bill will bring Pennsylvania into full compliance with the federal Workforce Innovation and Opportunity Act. State funds would match federal funds available to Pennsylvania through the OVR under the federal Vocational Rehabilitation Act of 1973.
Federal census data reveals that those with disabilities are more than twice as likely to live below the poverty line and half as likely to join the work force.
Under the bill, the OVR would be required to collaborate with officials of local education agencies and other public agencies, such as county mental health and intellectual disabilities programs, to include after-school and summer work opportunities in a student's Individual Educational Plan (IEP). The OVR would also arrange for, monitor, and support the placement of high school students with disabilities in lawful internships, on-the-job training, or full-or part-time work at competitive wages in integrated settings with public-and private-sector employers.
The state must do a better job connecting local education agencies with public and private employers necessary to seamlessly and successfully transition students from high school to employment. It is truly a win-win-win.
My proposal has been bolstered by the #IWantToWork campaign spearheaded by the United Way and many local Arcs.
---
Baker Offers Resolution Recognizing AED Awareness Week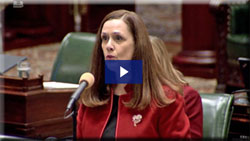 I recently offered a resolution recognizing Automated External Defibrillator (AED) Awareness Week in Pennsylvania. Sudden cardiac arrest is one of the leading causes of death in the U.S. Over 350,000 people will suffer from sudden cardiac arrest this year. It can happen to anyone, anytime, anywhere and at any age. An AED is the only effective treatment for restoring a regular heart rhythm during sudden cardiac arrest and is an easy to operate tool for someone with no medical background.
---
Baker and Wiley Reintroduce Bill to
Reward and Recruit Volunteer Firefighters
Responding to a growing shortage of volunteer firefighters, I have joined Senator Sean Wiley (D-49) in reintroducing a bill to give municipalities the power to waive their local earned income tax for volunteer first responders.
Volunteers at nonprofit emergency medical service (EMS) agencies would also be eligible to receive the tax credit under the provisions of Senate Bill 299.
Many Pennsylvanians do not realize that 96 percent of our firefighters are not paid for jumping out of bed in the middle of the night to fight a fire or run to the scene of an accident. Giving firefighters and EMTs a small break on their local taxes is a simple benefit that will compensate them in some small measure for their priceless life-saving work.
The idea for the legislation was bolstered by a joint hearing on firefighter and EMT retention and recruitment held in 2013 by the Senate Veterans Affairs and Emergency Preparedness Committee, which I chaired for seven years, and the Majority Policy Committee.
Extending an earned income tax credit was among a menu of solutions offered by experts as a preferred recruitment and retention tool.
Under the legislation, municipalities would have the power to set the amount of the tax credit and the guidelines of the program, including specifying the number of calls to which a volunteer must answer and the level of training they must have.
Although the tax credit program would be optional for local governments, we hope every municipality will see the virtue of keeping and attracting its volunteer firefighters. When those first flames begin, every second counts. We cannot afford to sound the alarm and find that no one is available.
The bill is expected to be part of a larger package of incentives to fill the rapidly declining ranks of our volunteer firefighters and EMTs, which have dropped from 300,000 to 50,000 in 30 years. The decrease is attributed largely to the prevalence of two-income families, the demands of incessant fundraising, local leadership conflicts, and the stagnant economy.
---
Winners Announced in
"Scenes from the 20th District" Calendar Contest
Submissions Now Being Accepted for This Year's Contest
It was my pleasure to congratulate the winners of my first-ever calendar contest during a ceremony in my Eastern District office along Lake Wallenpaupack.
The 2014 "Scenes from the 20th Senatorial District" photo contest received nearly 200 entries showcasing the people, places and things from throughout the region. A total of 16,401 votes were cast, and the results were close in all six categories.
The winning photographs included scenes from all five counties that encompass the district – Luzerne, Pike, Susquehanna, Wayne and Wyoming.
The many images we received perfectly captured the beauty and excitement the 20th District has to offer. I'm hoping there is even more interest this year.
Contestants for this year's contest can submit their favorite shots by going to http://www.senatorbaker.com/photo-contest between March 1, 2015 and August 31, 2015. Photos will be organized by the season they best represent – Spring, Summer, Fall or Winter. Voting will take place from September 1, 2015 to September 30, 2015.
The top three vote-getters in each category will serve as a featured month in the 2016 "Scenes from the 20th Senatorial District" Calendar. To make sure you don't miss the announcement, follow me on Twitter @SenLisaBaker and SenatorLisaBaker on Facebook, and sign up for my E-Newsletter and other electronic communication on my website, www.senatorbaker.com.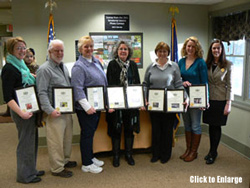 Here is a list of winners from the 2014 contest as well as hometowns, image description:
COVER: Eileen Chorba, Beach Lake, Winter on Bunnell's Pond;
JANUARY: Terri Heisler-Hess, Bushkill, Snow-nosed deer;
FEBRUARY: Katie Larsen-Lick, Mountain Top, The White Door;
MARCH: Jeffrey Sidle, Hawley, Bear cub in a tree;
APRIL: Jeanette Niebauer, Dallas Township, Creekside Gardens;
MAY: Eileen Chorba, Beach Lake, Bald Eagle
JUNE: Kim Erickson, Cherry Ridge Township, Tyler Hill Farm Country Inn;
JULY: Paula Mandracchia, Schwenksville, Summer on Lake Wallenpaupack;
AUGUST: Janie Stabinsky, Mehoopany, Sunrise on Chamberlain Pond;
SEPTEMBER: Barbara Grace, Simpson, Forest City's Lake Erie;
OCTOBER: James Hamill, Honesdale, Railroad in Honesdale;
NOVEMBER: Cindy Innella, Shohola, Home from a National Guard drill;
DECEMBER: Katie Larsen-Lick, Mountain Top, Bench along the lake;