December 2019
Criminal Justice Reinvestment Initiative Bills Signed Into Law
The Senate gave final approval to two bills that would strengthen the criminal justice system and reduce costs to taxpayers.
Senate Bill 500, which I sponsored, would redirect a portion of these savings to strengthen county probation and parole services. A County Adult Probation and Parole Advisory Committee, would be established to make funding recommendations. The committee would also be responsible for reviewing grant applications for county intermediate punishment programs.
Senate Bill 501, which was sponsored by Sen. Tom Killion, would streamline the placement of offenders in drug treatment programs and other intermediate punishment programs, and improve and expedite the parole process for non-violent offenders. The bill would divert many non-violent offenders with short sentences to county probation and parole systems if they meet certain qualifications. It is estimated to save the Commonwealth $45 million over the first five years.
The two bills are part of a second phase of the Justice Reinvestment Initiative (JRI) which was created by lawmakers in 2012. Since its creation, JRI has helped reduce the inmate population in state prisons by more than 4,300, cut the crime rate by approximately 29 percent, and save $400 million in project costs to taxpayers.
There is widespread public agreement on curtailing correctional costs through smarter sentencing practices and strengthened measures to reduce recidivism. This package adds a valuable second layer of reforms aimed at overhauling the criminal justice system, in part to put more focus on rehabilitation than on pure punishment. With proper implementation, we believe that reform can work without compromising public and community safety.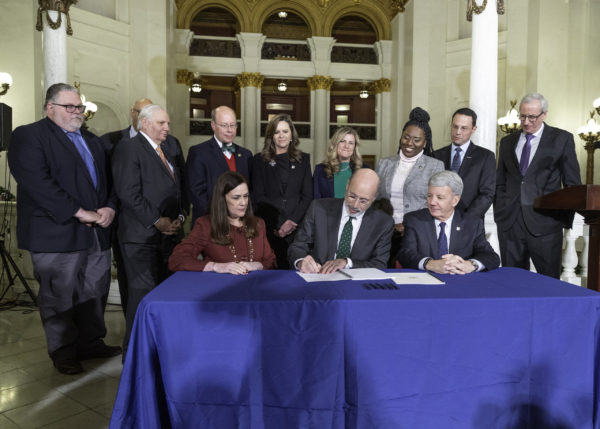 Shoveling Tips for Your Driveway and Mailbox
In addition to providing important information about winter driving preparation and precautions, PennDOT is reminding residents about effective shoveling tips to remove snow and ice from driveways and mailboxes which will keep these areas clear following the passage of the plow trucks.
Snow should be shoveled or plowed to the right side of the driveway as you are facing the intersecting roadway. By piling the snow away from the oncoming direction of the snow plows, the snow will not be pushed back onto the driveway. However, do not push snow onto roadways at any time, this creates a hazardous condition for all vehicles.
Before undertaking any snow removal activity, review these shoveling safety tips.
Better Access For Firefighter Training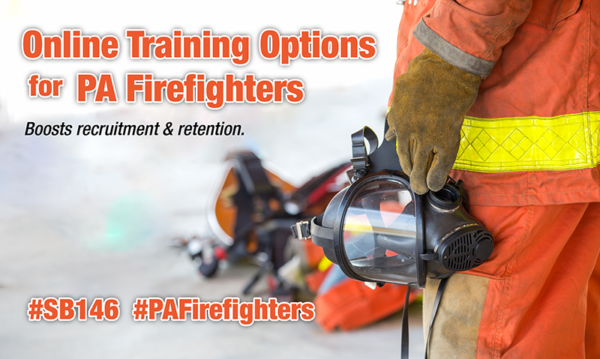 The State Senate gave final approval to SB 146, a measure that is intended to make firefighter training more accessible and affordable through online courses and the governor signed it into law as Act 106 of 2019.
The law ensures that online training would be voluntary and free to both career and volunteer firefighters. All available courses would be listed online, and developed under the leadership of the state Fire Commissioner. Training requirements are often cited as a barrier to recruitment and retention, particularly for volunteers, because they can be costly and time-consuming, often demanding travel and time away from work and family.
The Senate Resolution 6 Commission recommended online training as one of its core suggestions to ease the staffing burden on today's firefighters.
Avoiding Identity Theft While Holiday Shopping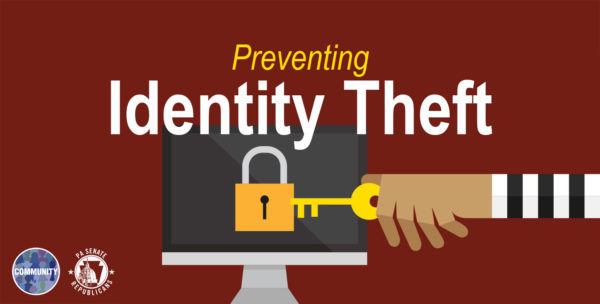 Shopping on secure websites (URLs beginning with "https") and avoiding unsecured mall and other public Wi-Fi are just two ways to avoid ID theft this holiday season. More ways to protect your valuable identity and personal information and what to do if it has been stolen, can be found by clicking here.
Touring Small Businesses In Honesdale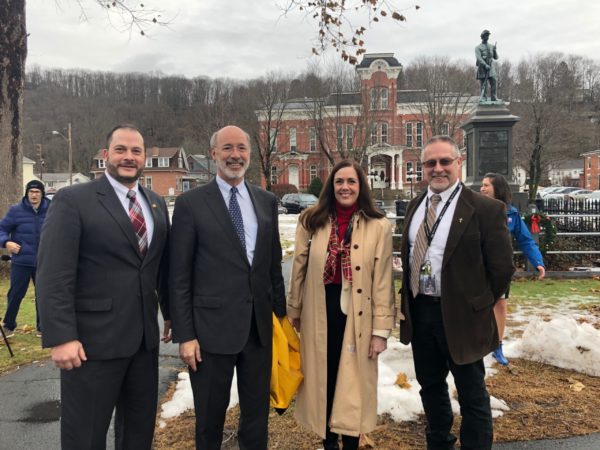 Recently I joined Governor Tom Wolf during his visit to Honesdale. While in town we toured small businesses and encouraged Pennsylvanians to shop local this holiday season. Among the stops were Arts for Him and Her Too, Yoga International, Central Park and the Wayne County Historical Museum. After the walking tour we met with officials from Wayne Memorial Hospital to discuss how rural communities will benefit from my rural health bill that has been signed into law. The law supports the financial stability of hospitals in rural communities by transitioning them from fee-for-service to global budget payments. Among those on the tour, from left, were Rep. Jonathan Fritz, Gov. Wolf, myself and Wayne County Commissioner Brian Smith.
Flu Season Precautions
The Pennsylvania Department of Health is encouraging those who have not gotten a flu vaccine yet this year to do so. With the upcoming holiday gatherings many will be attending, it is important to get a flu vaccine to be protected throughout the flu season. As of November 30, there were 2,667 laboratory-confirmed cases of the flu and five deaths statewide.
Protect yourself and your loved ones by getting vaccinated and taking specific preventive actions:
Wash your hands with soap and warm water or an alcohol-based hand-sanitizer.
Cover your nose and mouth with a tissue when coughing or sneezing and throw away used tissues. Cough or sneeze into your upper sleeve, as recommended by the Centers for Disease Control.
Keep hands away from your face, eyes, nose, and mouth.
Disinfect frequently-used surfaces like doorknobs, light switches, TV remotes, and countertops.
Avoid personal contact with those experiencing symptoms of the flu.
Remain at home until at least 24 hours after your fever subsides without the use of fever-reducing medicine.
Flu symptoms come on quickly and may include a fever, headache, fatigue, dry cough, sore throat, nasal congestion, and body aches. Populations at particular risk include the very young, older Pennsylvanians, pregnant women, and those with chronic health conditions.
Season's Greetings and Best Wishes For A Happy New Year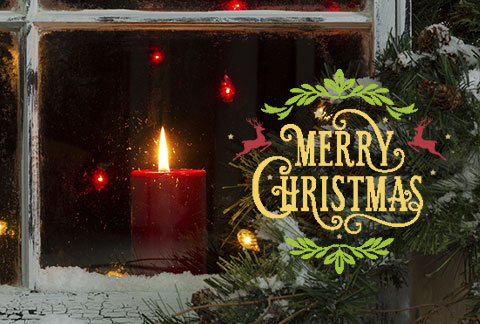 As you gather with friends and family to celebrate the holidays, please accept my very best wishes for a season that embodies all the warmth of this special time of year, and for a wonderful 2020!