In This Update:
Federal Court Rules Wolf Business Shutdowns, Other Restrictions Unconstitutional
Workshop Discussion Focuses on Impact of COVID-19 on Nonprofits, Veterans Groups
PennDOT Resumes REAL ID Processing
Funding Available for Transportation Improvement Projects
Senate Committee Explores Challenges Facing Rural Pharmacies
Senate Judiciary Committee Holds Hearing on Venue for Medical Professional Liability
Grants Available to Train Direct Care Workers
---
Federal Court Rules Wolf Business Shutdowns, Other Restrictions Unconstitutional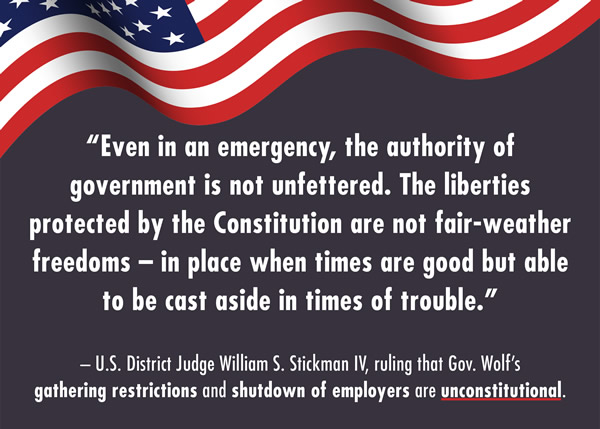 For months, many lawmakers have stressed the need to strike the proper balance between ensuring the health and safety of Pennsylvanians during the COVID-19 pandemic and protecting the freedoms we are guaranteed in the Constitution. A federal judge agreed this week, ruling that some of the actions taken by the Wolf Administration during the pandemic were unconstitutional. The ruling applies to Governor Wolf's mandated business shutdowns, as well as his restrictions on large gatherings.
In his decision, U.S. District Judge William S. Stickman IV said, "Even in an emergency, the authority of government is not unfettered. The liberties protected by the Constitution are not fair-weather freedoms — in place when times are good but able to be cast aside in times of trouble." Senate leaders are encouraging Governor Wolf to work cooperatively with lawmakers on a COVID-19 mitigation and recovery plan that puts Pennsylvanians first.
The judge's finding gives credence to the complaints that have come from numerous area businesspeople and citizens about the overreach and misdirected aspects of Governor Wolf's pandemic restrictions. This declaration is an encouraging beginning to what will be an extended litigation process. Because the order is limited in its application, it is too early to say definitively when and where restrictions may be relaxed or lifted. It also seems clear that the governor is going to pursue every means for reasserting his control.
However this legal battle over official power is resolved, we should all be willing to abide by what science, common sense, and experience tell us are effective means of contributing to individual and community safety. The confusion and disputes over lines of authority underscore the essential nature of the after action assessment bill I recently introduced. We must have a clear and coherent process for responding to future pandemics safely and expeditiously.
Workshop Discussion Focuses on Impact of COVID-19 on Nonprofits, Veterans Groups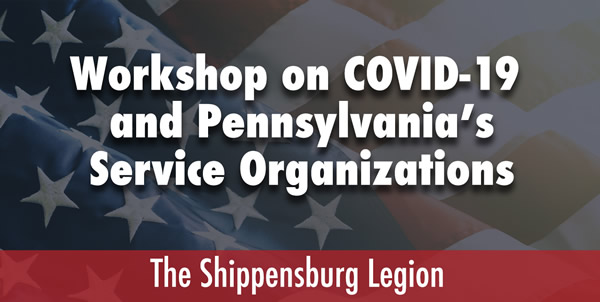 Governor Wolf's COVID-19 business shutdown orders created difficult financial circumstances for many nonprofit groups, including many organizations serving veterans. In many cases, the shutdown order prevented these groups from assisting Pennsylvanians at a time when their needs were greatest.
A workshop discussion hosted by the Senate Majority Policy Committee this week explored how these organizations are navigating the pandemic and what challenges remain to be addressed.
PennDOT Resumes REAL ID Processing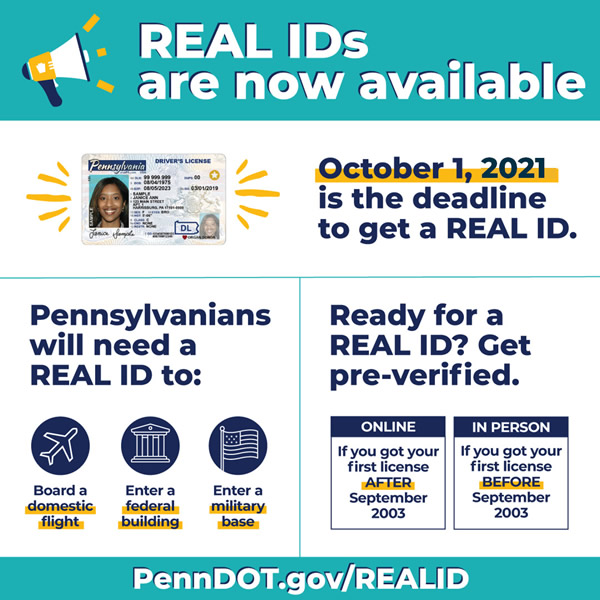 The Pennsylvania Department of Transportation has resumed issuing REAL IDs at reopened Driver License Centers throughout the state. REAL ID processing was suspended in March when most PennDOT offices closed amid the COVID-19 pandemic.
The deadline to comply with REAL ID requirements was pushed back one year due to the pandemic. REAL ID is optional for drivers, but driver licenses and photo ID cards will no longer be accepted as a valid form of identification for boarding commercial flights or visiting federal buildings beginning on October 1, 2021.
More information about REAL ID is available on PennDOT's website.
Funding Available for Transportation Improvement Projects
Transportation improvement projects throughout the state could receive a boost from grants through the Multimodal Transportation Fund. The program provides funding for ports and rail freight, increases aviation investments, establishes dedicated funding for bicycle and pedestrian improvements, and allows targeted funding for all modes of transportation.
The program is open to municipalities, councils of governments, business/non-profit organizations, economic development organizations, public transportation agencies, public airports, airport authorities, and ports and rail entities. Applications for grants will be accepted through November 6.
Senate Committee Explores Challenges Facing Rural Pharmacies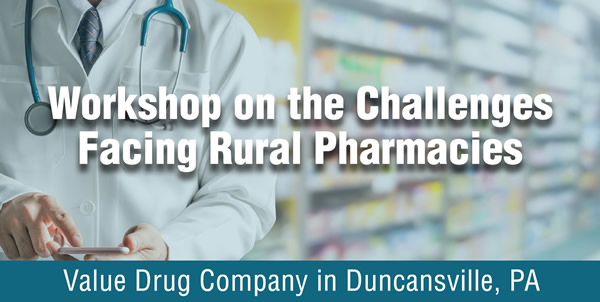 Many rural pharmacies faced severe financial challenges even before the COVID-19 pandemic due to low reimbursement rates from pharmacy benefit managers and bureaucratic red tape. This week, the Senate Majority Policy Committee hosted a workshop discussion to learn more about the challenges facing these businesses to ensure they remain an important part of the health system in rural communities.
Testifiers encouraged lawmakers to consider measures to provide greater pricing transparency of prescription drugs and greater oversight of prescription benefit managers.
Senate Judiciary Committee Holds Hearing on Venue for Medical Professional Liability
The Senate Judiciary Committee recently held a public hearing to review a report on the impact of venue for medical professional liability actions and give various parties time to react and recommend how they see things moving forward for the public interest.
In the early 2000s, among the factors identified that contributed to the rise of litigation in the medical arena was a practice termed venue shopping. As a result, state officials through legislation and judicial rule arrived at what was regarded as substantial, long-sought reform. To many, it established a more reasonable equilibrium in medical litigation.
Whatever the perceived merits, no legislative solution is forever. Early last year, a plan to roll back the rule preventing venue shopping suddenly surfaced. Rather than rush to a conclusion, we decided to order a study by a well-regarded group with no vested interest in the outcome – the Legislative Budget & Finance Committee – to get a more realistic appraisal as to whether experience had tilted the balance too far. Perhaps not all that unexpected, the report, while helpful, was not definitive.
No matter which way the pendulum swings, we confront a series of substantial problems. If we allow too many lawsuits that lack merit and too many large judgments that do not reflect fair compensation for harm done, then we inflict harm on everything from commerce to health care to community services. On the other hand, if we allow too few lawsuits by inappropriately limiting access to the courtroom or if we place inappropriate restrictions on verdicts, then we have too much uncompensated harm and too little accountability for negligent or improper actions.
Grants Available to Train Direct Care Workers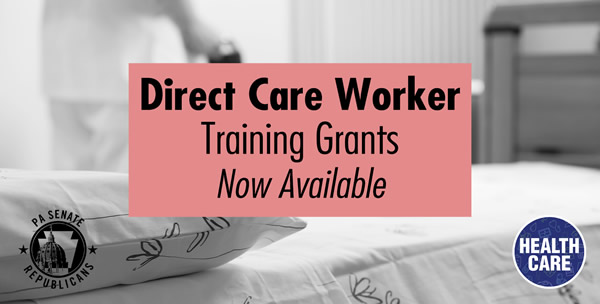 The COVID-19 pandemic has had a severe impact on patients and employees in long-term care settings. Grants are available through the Department of Labor and Industry to provide new career opportunities for direct care workers and improve the quality of care provided to patients.
The Direct Care Worker Training Grants program helps create and develop training programs that increase the quality of services, offer specialty certifications, and create viable career opportunities for personal care assistants, home health aides and certified nursing assistants. The deadline to apply is October 2.