State Budget Update – Funding What Works
State Budget Increases Funding For Vital Programs, Holds Line On Taxes
The Legislature approved a Fiscal Year 2019-20 spending plan that provides funding for essential services, promotes workforce development efforts, bolsters education spending at all levels and makes a substantial investment in the state Rainy Day Fund. I voted in favor of the bill. There are no tax increases, and a plan to tax municipalities utilizing State Police coverage was rejected.
House Bill 790, which spends nearly $34 billion – a 1.8 percent increase over the current fiscal year, was signed into law last week.
This budget is a reasonable and responsible effort at fitting some well-targeted spending increases within expected revenue. The priorities for increases are places that will benefit the district: education, worker skills, farm assistance, school and community safety, and enhanced services for crime and abuse victims. Another layer of funding is also provided for dealing with widespread drug and alcohol problems that continue to afflict our communities.
Revenues for Fiscal Year 2018-19 are anticipated to be $865 million over projections, with an ending balance of about $300 million. All of that money will go into the Rainy Day Fund, which covers financial shortfalls in the event of a dip in the economy.
It is good budget practice to set aside money for when tough economic times hit, to stave off deep spending cuts. For the most part, new programs and mandates requiring significant spending commitments were separated from the budget and will be debated on their own merits.
All levels of education are supported through increases:
Basic Education, $160 million
Special education, $50 million
Pre-K, $25 million
HeadStart, $5 million
Early Intervention services, $15 million
Higher education, two percent increase for community colleges, state-related universities (Pitt, Penn State, Temple and Lincoln) and the State System of Higher Education
A Public Higher Education Funding Commission will be charged with reviewing higher education funding, affordability and effectiveness.
Workforce development and job training initiatives are promoted by funding for:
Career and Technical Education, $99 million
Career and Technical Education Equipment Grants, $5.5 million
Pennsylvania College of Technology, $26.7 million
Thaddeus Stevens College of Technology, $18.7 million
New Choices/New Options, $750,000
The budget maintains Senate Republicans' commitment to Pennsylvania's farmers by restoring all of the Governor's proposed cuts and increases the overall appropriation to the Department of Agriculture by 13 percent to $19.5 million, including:
Two percent increases for Ag Research/Ag Extension and the University of Pennsylvania School for Veterinary Medicine
Agricultural Business & Workforce Investment, $4.5 million
Animal Health and Diagnostic Commission, $2 million
Livestock and Consumer Health Protection, $1 million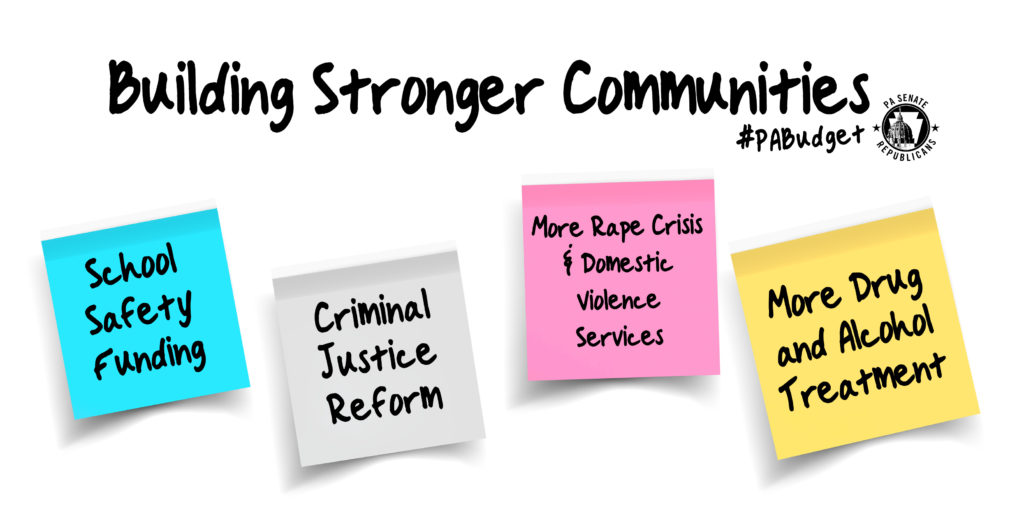 The budget also includes funding for efforts to make our communities stronger, including:
$71 million to protect students through the Safe Schools program and the Safe School initiative
10 percent increase to improve rape crisis and domestic violence services
47.3 million to expand drug and alcohol programs including those combatting Pennsylvania's heroin and opioid epidemic
20 percent increase to help identify and treat Lyme disease
9.2 percent increase to assist libraries in providing education and information
$300,000 to support community education and patient services at the Northeast Regional Cancer Institute
PA GI Bill Approved To Help Military Families, Honor Service
The Pennsylvania National Guard is the third largest unit in the United States with nearly 20,000 soldiers and airmen who reside in every county across the commonwealth. The Military Family Education Program was established to honor these brave men and women by allowing their spouses and children to attend college for free, or at a reduced cost. The initiative will also improve retention and strengthen readiness. It is the first of its kind in the nation.
Currently, Guard members are eligible for the Education Assistance Program with their initial six year obligation. Under the PA GI Bill, those committing to an additional six years of service can also receive five years of higher education benefits for their spouses and children. The program will provide for 10 semesters of tuition-free education. The benefit must be used at a Pennsylvania Higher Education Assistance Agency approved educational institution, and at the tuition rate set by the Pennsylvania State System of Higher Education. Up to 8,000 military family members could benefit from the program.
We thank these protectors and their families for their service and sacrifice and salute their enduring commitment to our state and nation.
Reducing Violence On Pennsylvania's College Campuses
'It's On Us' is a national movement to end sexual assault. In Pennsylvania, 'It's On Us PA' was launched as a statewide campaign in 2016 to engage educational leaders, legislators and victims committed to combat campus sexual assaults. In addition, the movement serves as a prevention education program that also emphasizes bystander intervention. A grant program was also created that year for eligible post-secondary institutions in Pennsylvania to apply for up to $30,000 in competitive funding to help the efforts.
$1 million was included in this year's budget to provide grants for colleges and universities to address campus sexual assaults, including campus-wide training for students, faculty and staff; programs that enhance awareness of available resources and students' rights; efforts to increase mechanisms for anonymous reporting of assaults; and institutional campaigns that raise awareness and understanding of the reporting process.
Two initiatives to reduce college campus violence were also part of the final budget package. Going forward, higher education institutions must provide online, anonymous reporting for sexual assaults. In addition, schools must establish amnesty policies that protect students who report sexual assaults from being disciplined for other policy violations such as drug or alcohol use.
You can take the pledge or find out more at It's On Us PA.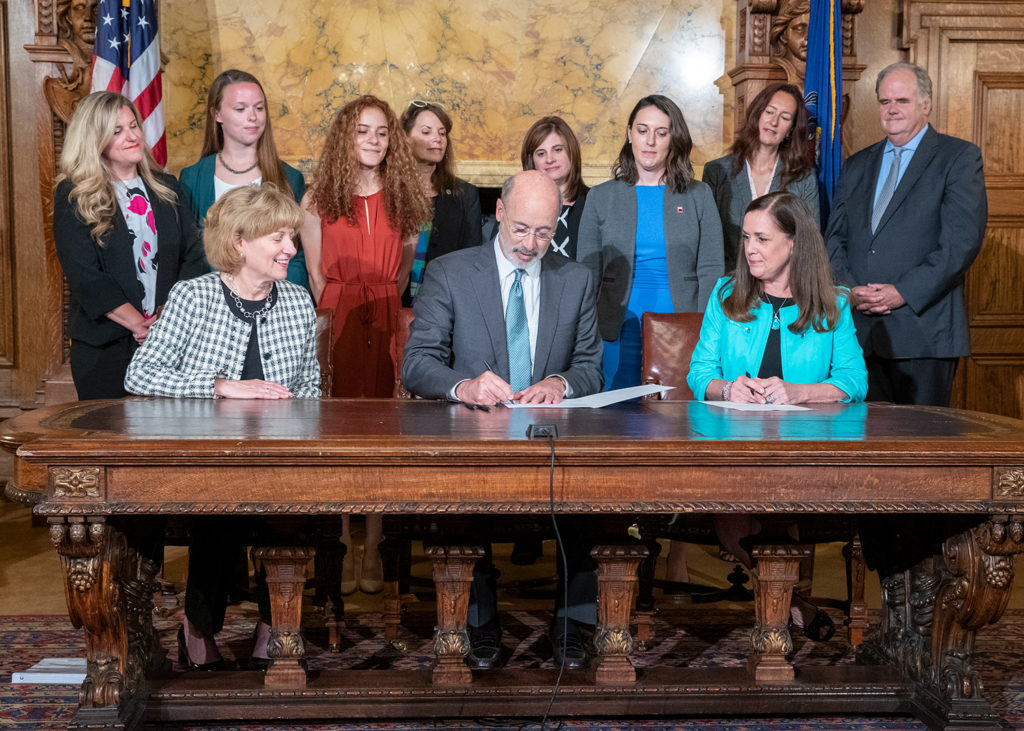 During a bill signing ceremony in the governor's reception room, Gov. Wolf thanked Sens. Lisa Baker and Judy Schwank for their legislative efforts to combat sexual assaults on college campuses. The legislation signed into law as part of the 2019-20 budget included language from Sen. Baker's 'It's On Us' bill mandating all Pennsylvania colleges and universities set up an online, anonymous reporting system to report sexual assaults on campus.
State Delays Changes To Medical Transportation System
Steps being taken to change Pennsylvania's Medical Assistance Transportation Program (MATP) have been put on hold while the state conducts a review of the potential impacts. I worked with Rep. Jon Fritz to delay the proposal in response to numerous logistical and financial concerns expressed by county officials, service providers, and those depending on rides.
In an effort to improve efficiencies and reduce costs, last year's state budget required the Department of Human Services to revamp its non-emergency medical transportation system by converting it from locally run to being managed by a statewide or regional broker.
But there were serious flaws in what was about to take place. It became clear that one-size-fits-all may not be the best approach. It may or may not work in the cities, but in smaller communities and rural areas it definitely has the possibility of driving up costs and hindering services to those relying on the system, such as people with serious medical conditions. Our seniors will be relieved this problem has been pushed off before they suffer any unintended consequences.
The examination will include an evaluation of the positive and negative effects of maintaining the current system versus implementing something new. A preliminary analysis is due in 90 days in order to provide sufficient time to advance any necessary legislative remedies. The final report is due in December.
Success At Misericordia University Serves As A Model For The State
A successful initiative at Misericordia University that has been helping single, low-income women with children create a brighter future for themselves and their families has earned state funding to help launch similar programs across the state.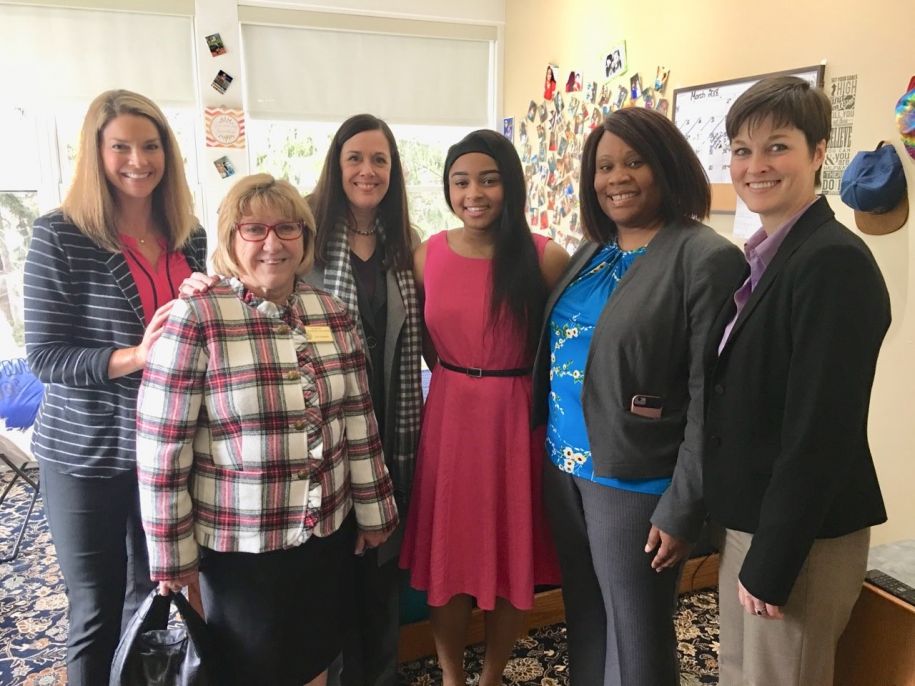 State Human Services Secretary Teresa Miller accompanied Sen. Baker on a visit to The Ruth Matthews Bourger Women with Children Program at Misericordia University to learn more about the program and speak with students. From left, Kristin Crawford, director of legislative affairs, Department of Human Services; Ann Houssock, Dallas office manager for Rep. Karen Boback; Sen. Baker; Ayanna Dexter, a student in the Women with Children program; Lisa M. Watson, deputy secretary, Office of Income Maintenance; and Sec. Miller.
$2.5 million in competitive grant funding will be available for startup funds for colleges that are interested in replicating Misericordia University's Ruth Matthews Bourger Women with Children Program under the Parent Pathways initiative.
This innovative approach seeks to reduce reliance on government programs by empowering economically disadvantaged single mothers and helping them break the cycle of generational poverty. Offering them some extra support to complete their college degrees provides them with a better chance at finding a family-sustaining career.
When a woman graduates, the positive results reach beyond her personal growth. She sets an indelible example for her kids and for other struggling moms.
Misericordia established its program in 2000, which provides free housing and a host of services to single moms pursuing degrees at the university, and has improved the lives of more than 30 graduates to date. 100% of alums have entered professional careers or graduate school, with many of their children now entering college themselves.