PA Home Energy Assistance Program Still Accepting Applications
Pennsylvania's 2019-2020 Low Income Home Energy Assistance Program (LIHEAP) is accepting applications to help income eligible families, whether renting or owning a home, to pay their heating bills.
Enter your fuel type and county into the LIHEAP Benefit Table to access benefit amount by household size. You do not have to be on public assistance or have an unpaid heating bill to be eligible.
Apply online, by paper application, or through your County Assistance Office now thorough April 10, 2020, to receive cash or crisis grants.
Playing A Key Role In New Juvenile Justice Reform Push
As someone who has been at the forefront of juvenile justice reform efforts for more than a decade, I am proud to be a part of the latest push for improving the system as the co-chair of the Pennsylvania Juvenile Justice Task Force.
We need to thoroughly look at all aspects of juvenile justice: balancing the interests and rights of the kids, their families and their communities; assessing the costs and effectiveness of placements and approaches; determining the public safety implications of what is done; and deciding how to ensure accountability for what takes place inside the system and how the return to the community is handled.
Extensive reforms implemented by the three branches of state government following the Kids for Cash scandal addressed what happens to kids once they are in the juvenile justice system. There is still work to be done in that regard, but the bigger challenge is to figure out ways to intervene with young people before they commit acts that bring them into the system. This is consistent with what we are trying to do across criminal justice generally, stressing prevention up front and reducing recidivism on the back end.
The Pennsylvania Commission on Crime and Delinquency issued a report a year ago that faulted the state for severely underfunding research into juvenile delinquency. That affects the ability to stop kids short of coming into the system and properly dealing with them once they do.
In important respects, this is an old problem. If not enough money is put toward identifying the causes of delinquency and establishing effective deterrent measures, the severity of the issues will increase and, as more kids are adjudicated delinquent, positive outcomes will be more costly and less certain to realize.
The Pew Charitable Trusts has been enlisted to help provide the statistical base on which to build recommendations. Pew has a long track record for helping to inform major reform efforts on difficult and contentious issues, such as public pensions.
The numbers capturing the extent and depth of the problems in juvenile justice will be alarming, but a reliable set of data is indispensable in understanding the challenges and arriving at recommendations on policies and funding levels that will constitute effective solutions.
Coronavirus Prevention And Treatment
Coronaviruses are a large family of viruses that are common throughout the world. They can make people and animals, such as camels, cats and bats, sick. These viruses, at times, can evolve and infect people, then spread through human to human contact. Human coronaviruses spread just like the flu or a cold—through the air by coughing or sneezing; through close personal contact, like touching or shaking hands; by touching an object or surface with the viruses on it; and occasionally, through fecal contamination. This has occurred previously with the Middle East Respiratory Syndrome (MERS-CoV) and Severe Acute Respiratory Syndrome (SARS) outbreaks.
People most at-risk to contracting a coronavirus are those who have traveled to places where the virus is occurring. In the case of the novel coronavirus, that location is the Wuhan area of China.
The Pennsylvania Department of Health frequently exercises and prepares for a potential infectious disease outbreak. We have been monitoring the coronavirus outbreak in China using information from our federal and local partners and are preparing our response teams in case of an outbreak here. We have talked with clinicians about the potential spread of the coronavirus into the United States and specifically, Pennsylvania, and also on how to ship lab specimens of potential coronavirus cases.
WHAT ARE THE SYMPTOMS?
Symptoms of human coronaviruses are often like the common cold. o Runny nose, headache, cough, sore throat, fever, a general feeling of not being well.
These symptoms are typically mild to more severe, and only last for a few days.
Human coronaviruses can sometimes cause lower-respiratory tract infections, such as pneumonia or bronchitis. o This is more common in people with heart disease, people with weakened immune systems, infants and older adults.
This particular coronavirus appears to be significantly more severe for older adults.
WHAT CAN YOU DO?
Cover any coughs or sneezes with your elbow, do not use your hands!
Clean surfaces frequently, such as countertops, light switches, cell phones and other frequently touched areas.
Contain yourself. If you are sick, stay home until you are feeling better.
For more information, visit https://www.health.pa.gov/topics/disease/Pages/Coronavirus.aspx
The latest information on the coronavirus in the U.S. and worldwide can be found on the CDC Website.
Additional information from the CDC on what to do if you are sick can be found here.
Ice and Snow – Remove It Before You Go
Removing snow and ice from the hood and roof of your vehicle is more than a good idea – it is the law, according to the Pennsylvania State Police (PSP).
Following injuries and deaths as a result of snow and ice striking vehicles and individuals, Pennsylvania passed a law requiring drivers to remove ice and snow before driving. When snow or ice is dislodged or falls from a moving vehicle and strikes another vehicle or pedestrian causing death or serious bodily injury, the operator of the vehicle from which the snow or ice is dislodged or falls is subject to a fine of not less than $200 nor more than $1,000 for each offense.
The PSP remind drivers that lights must be turned on any time the vehicle's windshield wipers are in continuous or intermittent use due to rain, snow, sleet, or mist.
Out And About In The 20th District
Communities across our commonwealth held swearing-in ceremonies for local officials earlier this month. Congratulations to those newly elected, and to those re-elected, as they take on or resume their respective duties.
Pike County Swearing-In Ceremony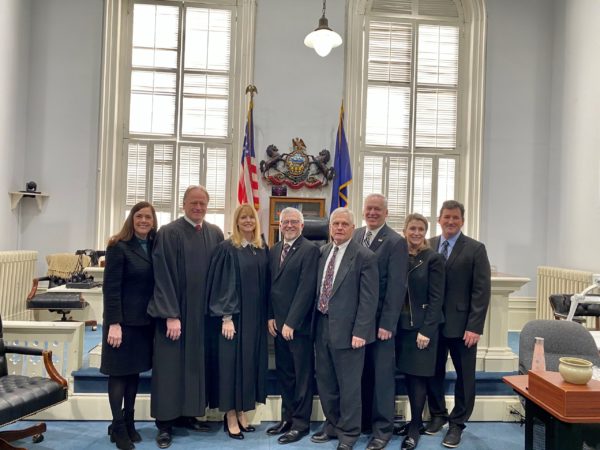 Wayne County Swearing-In Ceremony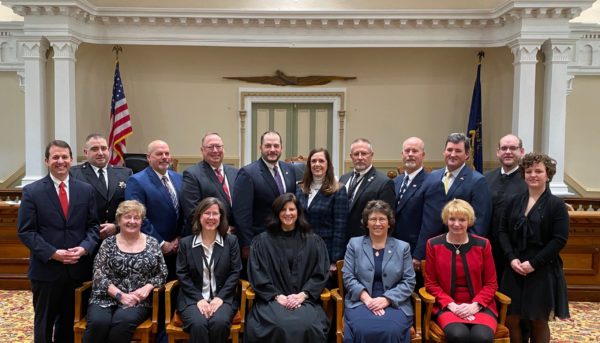 Join The Conversation
Social media provides a fast, inexpensive way to provide up-to-date information on everything from the state budget and legislative activity, to district issues and events. To stay up-to-date, be sure to follow me on my Facebook and Twitter pages.