Find out the best way to keep blueberries fresh, which variety of blueberry is the most flavorful, why nutritionists have christened blueberries a "superfood," and more, on the "Baker Report," the monthly cable TV show featuring Sen. Lisa Baker (R-20).
Baker recently toured the Paupack Blueberry Farm in Palmyra Township, Pike County and honored the Coutts family for 50 years of operation with a formal Senate citation.
Opened in 1964 by Donal and Shirley Coutts, the proud family farming tradition has been carried on by their children, including Kevin Coutts and his sister, Debbie Coutts Lloyd, and grandchildren.
"Paupack Blueberry Farm is one of the sweetest places on earth," Baker said. "This farm is a local treasure that provides not only gorgeous scenery, but terrific homegrown fun and delicious products, including blueberry pies, jams, muffins and candles."
Baker's half-hour program traces how the farm evolved, expanded and improved, and takes viewers on a tour of the charming gift shop, bakery, kitchen and fields.
Baker's television program airs on Channel 7 of Adams Cable Service; Channel 13 on Blue Ridge Communications; Channel 19 on Scranton's Electric City TV; and Berwick's Channel 10 on Metrocast Communications.  Please check local listings for exact times. The program is also accessible on her website at www.senatorbaker.com under the "Media Center" pull down menu.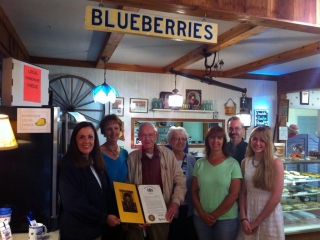 Sen. Lisa Baker presents a Senate citation to three generations of the Coutts family in recognition of 50 years in business operating the Paupack Blueberry Farm in Palmyra Township, Pike County.