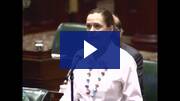 State Senator Lisa Baker voted in favor of the 2013-2014 state budget.  The reasons behind her "yes" vote are as follow:
"I believe that this is a reasonable and responsible plan within the available revenues. It is consistent with previous efforts to control state spending, but there is also recognition that additional dollars are needed in key areas to avoid negative consequences for families and communities.
There is still a need to be careful with the overall spending level because of anticipated added costs next year and beyond.
Where there is money to make discretionary choices, the priorities are good ones – Pre-K Counts, basic and higher education, school safety and community protection efforts with a 350% increase for school resource officers and safety enhancements. Extra money for the state police will and the Attorney General are two instances where the requests for funding for public safety and crime-fighting purposes proved compelling, providing 3 new cadet classes and a mobile crime lab to address gang violence.
The slow economic recovery means that a lot of families are still hurting from the recession, and there is some increased funding for programs to help meet those needs.
From my committee chair perspective, I am pleased that Pennsylvania's one million veterans have not been forgotten. Support for veterans homes has been increased over the governor's proposal. Emergency aid for veterans is retained, for those struggling to put food on the table, buy medication, pay a heating bill, and make a rent or mortgage payment.
This budget will give our Veterans Trust Fund time to secure a healthy fund balance, so that it can meet the many needs of those brave and women in uniform who are coming home at last to be reunited with their families and return to civilian life as quiet heroes. Veterans outreach services have also received a deserving injection of funds. These funds for our veterans service organizations yield an amazing return on investment as one dollar in outreach leads to more than $80 in state and federal benefits secured.
From a district standpoint, money is included to help the innovative Workforce Wayne project, to fund critical access hospitals in rural communities and to assist the Commonwealth Medical College in training doctors in northeastern Pennsylvania.
It is easy to find places where we wish more money could be directed. I heard a lot of expressions from individuals and groups for either catch-up dollars to restore services or new money to expand successful efforts. The difficulty is that it is not easy to gain broad agreement on acceptable ways to generate revenue to pay for higher spending, for this year and for subsequent years.
This budget is not a solution for all our challenges and problems, but it will work to improve our fiscal and economic situations, and that represents progress."
Contact: Jennifer Wilson
(570) 675-3931