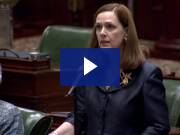 HARRISBURG — The state Senate today approved legislation sponsored by Senator Lisa Baker (R-20) that would allow crime victims, or their families, to provide testimony to the Pennsylvania Board of Probation and Parole when a perpetrator is being considered for parole.
Current law permits a crime victim to present written or oral comments for parole board consideration, as well as to testify before a hearing examiner, but does not allow for direct testimony before the board. Senate Bill 508 would address that gap in the process.
"We afford families the chance to make victim impact statements during sentencing. But we do not afford them an equal opportunity when the minimum sentence has been served and the perpetrator is seeking to return to the community," Baker said during remarks on the Senate floor. "Putting words on paper cannot match the emotional impact of face-to-face input from survivors. The purpose of this bill is quite simple – to give a victim or their representative the chance to meet with, or provide electronic testimony to, the board members charged with making the decision, or a hearing examiner, should that be the preference."
Baker credited Susan Hooper, from Luzerne County, who served on the Victim Advocate's Task Force and pushed for the measure for several years. Her brother, Robert Curley, died suddenly in 1991. His wife Joann later pled guilty to third-degree murder for systematically poisoning her husband. She has been denied parole since she was first eligible in 2006.
"The decision to grant parole is a serious determination, and should be made with the fullest understanding of the implications," Baker said. "This bill helps accomplish that goal."
Senate Bill 508 now goes to the House of Representatives for consideration.
Contact: Jennifer Wilson
(570) 675-3931