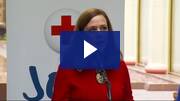 The Red Cross is a true lifeline. Every day, across the globe, you are "saving lives together."
The thick red cross on a plain white flag has become an icon in our culture, and an internationally recognized symbol of salvation.
A Red Cross flag hangs proudly in my Harrisburg office. It flew over the train that carried my grandfather home from the Spanish-American War when he was struck with malaria. It reminds me that, no matter when or why disaster strikes, the Red Cross is there to help.
From SuperStorm Sandy in October to this season's snowstorms, natural disasters continue to topple trees and power lines, and disrupt our day-to-day routines. Other smaller scale disasters, from house fires and sinkholes to flash floods and tornadoes, also displace families, and in some cases, take lives. In each case, Red Cross volunteers respond to pick up the pieces. They partner with government agencies, first responders, churches and other nonprofits to help Pennsylvanians recover from tragedy.
Beyond disaster response, the Red Cross supplies about 40 percent of the nation's blood, teaches first aid and CPR, provides international humanitarian aid, and supports military families.
I was delighted to be the prime sponsor of Senate Resolution 36 to honor the work of the Red Cross and to express our wholehearted support for its mission.
On behalf of all our neighbors in need and this Commonwealth, I thank you, as a uniquely American institution, for all you have done to help others not only recover from tragedy, but rise above it.
In designating March 2013 as American Red Cross Month in Pennsylvania, we formally salute your good works, and thank you for being the best of friends in times of trouble.