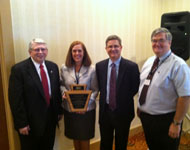 Senator Lisa Baker (R-20) was selected as the 2012 Legislator of the Year by the Pennsylvania Chapter of the National Emergency Number Association (NENA).
"It is an honor to be recognized by professionals on the front lines of public safety, but the true heroes are the emergency responders and dispatchers who provide expert care and compassion in times of crisis," Baker said, as she received her award at a recognition ceremony in State College today.
PA NENA recognized Baker for her work on a new wellsite safety law, pipeline safety laws, her legislation to update the emergency management laws, her collaborative efforts to improve the coverage of the statewide radio network, and her ongoing efforts to promote efficiencies and adequate funding of 911 call centers.
"First Responders Recognitions Day properly reminds us that Pennsylvania is blessed with first-rate police officers, firefighters, EMS officials, 911 call-takers, and veterans, along with their families, who sacrifice so much to serve," said Baker, who is chair of the Senate Veterans Affairs and Emergency Preparedness Committee.
NENA's mission is to foster the technological advancement, availability, and implementation of a universal emergency telephone number system. The protection of human life, the preservation of property and the maintenance of general community security are among NENA's objectives.
Contact: Jennifer Wilson
(570) 675-3931