Dallas – Charlie Lemmond was a positive force in my life in so many ways – friend, mentor, advisor, role model.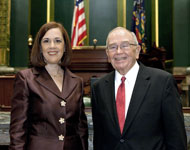 As a former judge, prosecutor and legislator, he had incredible respect for the power and purpose of law, properly crafted and wisely applied.
His twenty-one years as a well-respected state Senator were marked by his standard of integrity, his pursuit of justice, and his desire to do what was right for the people and the communities he served. He wanted to never disappoint those who trusted him and had confidence in his ability. He was willing to bridge party lines and political philosophies.
Through his constant and active involvement in a wide range of community groups, Charlie touched many lives, gave a sense of direction and responsibility to numerous improvement projects and served as an inspiration to countless individuals.
We will miss very much his voice of reason, his learned counsel, his desire to bring people together to solve problems and to realize opportunities, and his delightful sense of humor.
Gary, Carson and I extend our deepest sympathies to his wife Barbara, his children Chuck, Judy, John and David, and their families.