The Endless Mountains Health System held a groundbreaking ceremony for Phase One of its Hospital Replacement Project, which will expand the emergency department and operating room facilities, relocate the off-campus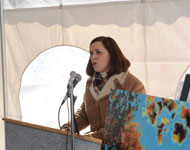 therapy services to the new facility, increase the number of exam rooms from 17 to 27, and increase the number of inpatient beds from 21 to 25. The project will also provide additional services including MRI, nuclear medicine, in-house mammography imaging, and primary care and specialty services not currently offered in the existing facility. The new hospital will also accommodate the integration of the current off-site outpatient rehabilitation department and will include a new multi-specialty physician suite that will provide space for up to 12 full-time providers.
Senator Baker offered the following remarks as part of the program:
"The economic health of an area depends on access to quality medical care. That is one diagnosis no one seeks a second opinion to dispute or disprove.
Small communities such as Montrose offer all sorts of attractions and charms. But they need anchor institutions such as EMHS to provide strength and vitality and opportunity.
It takes a terrific team effort to pull off a project of this size. Cooperation between the business and medical sides, extensive community contributions, local and state governments providing key funding and regulatory assistance. There are a lot of hands involved in health care success.
It has been a bit of a wait for an improvement project to come together, but this one is certainly significant in scope. The catalog of services added, services enhanced, and services consolidated is quite impressive. People will appreciate both the greater care and the greater convenience the new facility brings.
Every health care facility serving a rural region faces recruitment and retention challenges. This has to really move your ability to compete for talent. Plus, it brightens the employment picture.
This project reinforces that quality health care has several key parts – modern facilities, state-of-the-art technology – but it is still good people who make it all work.
The new facility will attend to improved health for a rapidly rising patient count, but will really attend to the economic health of the region as well. That means a rosy-cheeked prognosis for our future."
Contact: Jennifer Wilson
(570) 675-3931