HARRISBURG — In response to the heavy flooding caused by tropical storms Irene and Lee earlier this month, five senators today announced that they will introduce a comprehensive, bipartisan legislative package aimed at bringing relief to those affected by the disaster.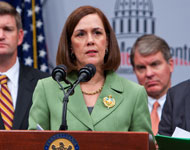 Senators John Gordner, R- Berwick, Lisa Baker, R-Lehman Township, Gene Yaw, R-Loyalsock Township, John Yudichak, D-Plymouth Township, and John Blake, D-Archbald, unveiled the seven-piece package at a news conference today at the state capitol that combines financial assistance, infrastructure funding and tax breaks for affected areas.
"Our goal is to provide financial assistance to communities affected by flooding and provide the resources to ensure that the recovery effort will take place as quickly as possible" said Gordner. "We've all toured our flooded communities and we have seen how hard-hit they have been by these storms."
Baker, who chairs the Senate Veterans Affairs and Emergency Preparedness Committee, said she is also planning to conduct several committee hearings on issues ranging from creating a state disaster assistance fund to the utilities' response to prolonged power outages after Hurricane Irene.
"We have a bipartisan commitment to helping our residents and local officials get back on their feet," Baker said. "There is widespread damage so we need to have a good plan in place to jumpstart our recovery effort."
Among the bills announced today are measures to:
Establish a restricted account in the State Treasury to provide additional state grant monies to individuals and families based on income eligibility and damage losses.
Authorize $250 million for the state share of flood-related highway and bridge rehabilitation projects.
Allow local taxing bodies to abate real estate taxes for properties substantially affected by the flood.
Authorize a county-by-county list of highway, bridge, flood control and hazard mitigation projects that need rehabilitation.
Give the Secretary of Education the authority to waive certain requirements for public and non-public schools that were substantially affected by the flood.
"People in my district have lost their homes, their livelihoods and even a few have lost their lives, as a result of this catastrophic flood," said Yaw. "This legislative package is a lifeline for those individuals, families, business owners and municipal governments who are in dire need of assistance."
"Regardless of political party or municipal boundaries, the flood victims in northeastern and central Pennsylvania desperately need our help," Yudichak said. "This package of bills begins the process for Pennsylvania to supplement the aid provided by the federal government and will provide valuable resources to those heavily impacted by the flooding."
"The amount of damage caused and the number of lives affected by this catastrophe is really disheartening," Blake said, who serves as the Democratic chair of the Senate Local Government Committee. "I knew, and my colleagues knew, that we needed to step up for those families and businesses that lost so much in this flooding event."
Attachments:
CONTACT:
Carol Milligan
Senate Republican Communications
(717) 787-6725