Dunmore, PA (December 15, 2006)– PennDOT District 4 Executive Stephen J. Shimko, P.E. joined state lawmakers and local officials on Wednesday, December 20, to celebrate the reopening of Route 1032, Maple Tree Road Bridge , Luzerne County.
The Maple Tree Road Bridge was closed due to damages from the June 2006 floods. The project was bid as a package with the Route 1047, Ellsworth Hill Rd. Bridge, on August 17 and awarded to Pennsy Supply for $893,700 for both bridges.
This bridge joins Route 1047, Ellsworth Hill Rd., as the first June flood-affected structures to reopen in Luzerne County. The preliminary design was done by PennDot District 4-0 Engineering office in Dunmore. The Design-Build team was comprised of a contractor, Pennsy Supply Company doing business locally as Slusser Brothers and an engineering firm, Traffic Planning and Design.
"From flood to opening in five and one half months…this is an extraordinary pace when a bridge or culvert replacement can sometimes take several years," said Richard Cochrane, PennDOT 4-0 Assistant District Executive for Construction. "Our maintenance, design, and construction staffs and the designers and contractors all worked together to get these roads open before winter."
Among the other flood-damaged bridges currently under repair in Luzerne County are:
Route 118, Ross Township. Temporary pipes were installed after the June flood to reopen the road as quickly as possible. The project was awarded to Susquehanna Supply Construction for $3,368,154.70. Borton and Lawson Engineering performed the preliminary engineering and Dewberry Engineering performed the final design. Construction began the first week of November on a permanent bridge replacement. The first phase could be completed mid-January with the entire project wrapping up by the end of June 2007.
Route 4013, Mossville Rd. (Dark Hollow Road) Fairmount Twp.: The project was bid on August 17 and awarded to Pennsy Supply for $1,124,428. The project will replace a damaged structure with a new concrete box culvert. The project also includes another box culvert on route 1021, (Eighth Street) Franklin Township. The preliminary engineering was done by Clough-Harbor and Associates. The final design was done by Borton Lawson Engineering. Construction began August 24, and the roads were reopened with temporary cross pipes by the end of September. Work on a permanent structure began at the end of November on Route 4013. The road will be closed through the winter as the restoration work and culvert installation work continues. A detour remains in place. Work on SR 1021 will be postponed until spring. A temporary bituminous roadway surface will be placed for the winter.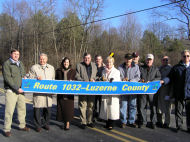 Pictured left to right: Jeff Novitski, PennDOT construction division; Stephen J. Shimko, PennDOT District 4-0 Executive; Lisa Baker, Senator-Elect; Hon. George Hasay, state representative; Tony Barbose, Barbose Construction (back row); Dr. Karen Boback, state representative-elect; Lonnie Piatt, Lake Twp. Supervisor; Jeff Miller, PennDOT (back row); Bob Grey, Lake Twp. Supervisor; Tom Yoniski, legislative aide to Rep.-elect Baker; Richard Cochrane, PennDOT 4-0 Assistant District Engineer for Construction.
 CONTACT: Karen Dussinger PHONE: 570-963-4044
CELL 570-267-4810
Email: kdussinger@state.pa.us